... is a valved nos r2r dac by the ukranian master abbas zulfugarov that i have owned for two years.
It is based on the classical philips tda 1541 chip, but the implementation is highly non-standard. I dont know all the details but here are some highlights:
- selected tda 1541r- dac chip
- single 5687 valve based output stage
- soviet vintage germanium transistors for i/u conversion
- dem valve clock
- three separate power supplies and trafoes
- valve rectification both for output stage and dem clock
- germanium transistors used for power supply regulation
- mix of vintage and modern components of high quality
- western nos valves
- boards gilded and covered in violin varnish
- approx 8 kg
The dac is a mid level model and costs around 2500 usd. Abbas sells on ebay.
So what about the sound? Killer! Simply the best digital i have heard.
Like other nos valve dacs it has a smooth tone and like the very best it manages to retain some of the life that is normally lost in the digital process.
But detail, resolution and verve is simply way better than anything else ive heard. Including top level audio note for example.
Its important to stress that detail and resolution produced here is not the plastic 4k hyper reality that comes out of many modern delta sigma dacs, like for example dcs and chord. More in the direction of real instruments and sounds.
Tonal balance is ever so slightly to the bright side. I replaced the stock philips ecg 5687 with a tung-sol.
The dac only takes spdif input. Abbas makes valve based usb-spdif converters. Needless to say its critical of the quality of the digital signal and any sniff of usb haze will be brutally exposed. More about this later.
Abbas' top level dacs have big valve output stages (like el 84 and 6080) and reputably bigger dynamics.
Smaller models can be picked up for very reasonable money.
Big models are based on either pcm 58 or tda 1541, smaller on pcm 63 and tda 1543.
Picture of abbas digital boxes below. Dac is black box to the left.
Ready to race against anything in the copenhagen area. Particularly a lampizator would be interesting.
More abbas later.
Jesper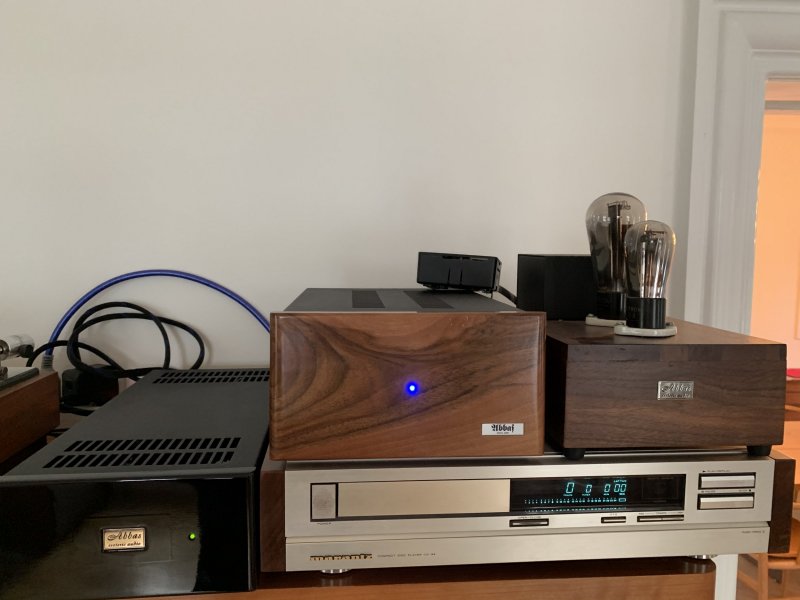 Last edited: