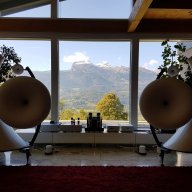 Dec 12, 2015
2,695
1,838
290
Hello fellow audiophiles
After I learned quite a lot on this forum from quite a lot of people, I think it is time to give something back to the forum.
I realized, that it is very hard to almost impossible to compare the top offerings from different brands because dealers rarely have competing brands in their portfolios and if they do, it is never the higher up models in the same price bracket.
Some people commented that they would love to hear the Aries Cerat Kassandra, but that it is hard to find dealers for demos, let alone for comparisons.
My dear friend M owns a wonderful system consisting of Aries Cerat Impera 2 preamp and Concero 65 Mono amps and a Lampizator SuperKomputer feeding a Golden Atlantic DAC.
M at the time was a die-hard Vinyl man at heart and felt it was time to improve his digital chain to close the gap to his Vinyl rig consisting of Brinkmann Bardo TT and DS Audio DS-W2 pickup and phono preamp system.
In his system, the two obvious contenders only could be the
Aries Cerat Kassandra Reference 2
for the same aesthetics as his preamp and mono amps, as well as possible system synergy as an All-Aries Cerat chain and the
Lampizator Pacific DAC
as the new top model way above his trusty and beloved Golden Atlantic DAC.
M's Aries Cerat dealer and good friend was kind enough to provide M with a Kassandra for about two weeks to get accustomed with the DAC and to be able to squeeze out the best sound from it.
I was able to borrow a Pacific DAC from a very good friend of mine for this compare.
So we were in the probably unique position to compare those two top DACs even in a home situation with a (for me as well) very familiar system. How privileged we are!
I want to stress that we were very curious ourselves about this compare and that we are free from any bias.
We optimized both DACs individually for the best performance and even took notes. For example they needed opposite polarity, both in power and in speaker phase to sound their best. We also did meticulous volume level matching to ensure fair conditions for both contenders.
We chose 4 reference tracks we are all very familiar with that offer a wide variety of demands to a system.
The "we" I'm talking here are 4 very experienced listeners with very different backgrounds but sharing the same level of curiosity and love for audio and music:
M, the owner of this wonderful system and so to say the initiator and host of this event, one is the owner of the Kassandra, one is a mutual audio friend and I am the last to complete this quartet.
We switched back and forth several times and the more we familarized us with the charcteristics of the DACs we came to the following strengths:
Kassandra:
Very robust foundation with a lot of ooomph and visceral bass, well-balanced
Pacific:
Building upon the high achievements of the Kassandra with a slightly different bass presentation, being more taut than visceral
3 of the 4 of us clearly preferred the Pacific because of the for us considerably higher transparency and resolution without any hint of being too clinical or sterile. The stage was huge, reaching far wider and deeper and higher than the room boundaries with the Pacific.
Only the Kassandra owner preferred the Kassandra over the Pacific.
This very extensive and meticulous compare resulted in M ordering a Pacific DAC with matte silver top to blend in with his existing Aries Cerat gear in his outstanding system.