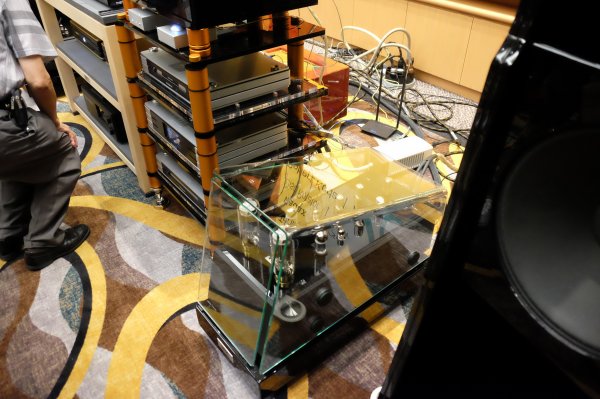 This was the top room - with Cessaro Carmen Speakers, Wadax Statement Phono trio and Atlantis Statement DAC, Vertere RG-1/Arm and Ultimate platform + Etsuro cartridge, Engstrom Monica Ref Pre + Super Ref ERIC power amp, Tripoint Emperor AC plus Ground, and Skogrand Beethoven Cables.
Amazing sound and knowing that this was set up in two days shames Munich's performance completely.
The room was large and about 200 invitees were present. Sitting in the second last row and off centre, I could still lose myself in the soundstage and playback. Tonality, dynamics and pitch did not even enter my mind as you felt constantly you were in a live performance from Vangelis-Antartica, Incomparable Mantovani, Saint-Saens, Eva Cassidy...to Carol Kidd vinyl being played.
Choice cuts of music was played on the Vertere, which went through the Wadax Phono unit into the Atlantis DAC. Speaking to Xavier he mentioned that this was all done in 128bits and finally truncated in the final D/A conversion of his first showing of the DAC. Thifs then went into the Engstrom Monica and from there into the Eric. What an amp! They were there to drive the Cessaro Carmen with grip and authority. And all this in a room large enough to fit so many of us was no mean feat.
There was another room with full Trinity room, and Cessaro Brahms/Rachmaninov Subs and Disc Rotator with Thales arm, Etsuro cartridge. Once again with the Firebird Suite from Korsakov the speakers just disappeared. It's late here in HK and I am with family on holiday so have to keep this short.
The Other room had Artisan Fidelity with Zanden Super/Phono/Preamp/Amp. First showing in the world. Along with this was Tripping Prince and Signature. And played through the new Cessaro field coil speakers (not horns), just wonderful. The Speakers may look small in the photo's but they really aren't. As big in size as the Tannoy's Westminster's.
Clearly the team at Audio Exotics know how to get the most out of their partners who manufacture just that one step beyond everyone's expectation.
What a great experience! Enjoy the pics.