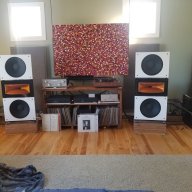 Feb 4, 2019
1,848
1,373
245
I attempted to biamp my speakers again. The last time I tried i had a bad ground loop. This time I decided to take it slower. I first hooked up the Dartzeel. Only the mid/high drivers play. So far so good. This time i take it slow with the SET 845. I only hook up 1. This time the high/low run, and the woofers on 1 speaker run. At this point I decided to adjust the built in volume knob on the SET. This not only alters the SET, it also alters the Dartzeel. Dial the SET to 0 and the Dartzeel is muted through both channels too. Not just 1 channel . It seems to be a big loop. Not sure why this would happen. Is this normal?

My preamp is a First Sound. It is an active unit with a stepped volume. It is true duel mono. 2 power supply, 2 ground plain. There are 2 output RCA on the back of each channel. The RCA are internally wires together. I have a channel of each amp connected to one each of the rca. Effectively the amps inputs are tied together.

I assume this is why I got a big ground roar last time. If I connect the second amp, there would be 2 amps driving both channels of the dartzeel, and possible trying to drive each other.

Is this normal. Amps with their inputs effectively tied together will try to drive each others gain. Or loop their systems together.

Do I have to use an active crossover to do this.

Or is this another weird manifestation of issues pertaing to these amps.