Feb 24, 2015
1,890
456
315
Good morning all, hope your day is going well so far! Yesterday afternoon I visited Steve and Kathy and of course listened to some music. My intentions were to also go to T.H.E. Show also but due to other life concerns this did not happen. Really wanted to go in show of support and meet up with forum members, next year.
Upon arrival at the Williams casa I was graciously greeted with smiling faces and a plate of cheese, crackers,chocolate and fresh strawberry's. Thank you Kathy for preparing the delicious unexpected treat, much appreciated!
It turns out that was the sustenance needed to get through the first bit of our listening session as Steve was telling me about this song he wanted me to here that is on one of Phillips demo discs. Steve pops the disc in the MSB, hits play and no left channel. So diagnostics ensue and about a hour and a half of cable swapping and tube swapping we find the bad tubes that are popping the fuse on the left amp and off we go. Steve has plenty of extra fuses and tubes and the inventory paid off.
Let me say that its been three years since I have been in Steve's room. So there have been many changes since then. The big three would be one, removing the subs from the room, two the addition of Center Stage footers and three the Master Built cable loom. Since all those changes happened its hard to pin exactly what did what as I was unable to follow the progression. I forgot to mention the SME and ZYX, and amazing combo, so big four.
I am here to tell you the improvement was not small, it is, and I am trying to avoid getting arrested by the R.O.N. police here, a game changer!
When I first met Steve and his room I walked away with a little tiny thought in the back of my mind of, why would a speaker of that magnitude in a room that small need sub-woofers. Well as it turns out he did not and the change was huge. The bass is so much tighter and carries much more authority and definition. It brought back the actual sound of the instrument itself.
The next bit I am not sure what made the changes individually but as a sum total the math adds up.
In every system I have listened to in all price ranges there is always a mid range "bloat" I will call it that annoys me to no end. I attribute a lot of that to life/career choices made with my hearing so I always keep it to myself. That bloat has been reduced to minimal levels, to the point I stopped thinking about it.
The entire system has picked up a large magnitude of clarity and definition. The sound-stage has increased in all directions, decays more realistic and the silence between the notes darker The sound has become more real/believable.
The first time I heard a ZYX cartridge I was smitten, to me they do most everything right, top, bottom, middle. To me a lot of expensive carts do one or the other extremely well at the expense the other. Once I get set back up, the SME/ZYX combination has a future home for sure.
I finally heard R.O.N.s Send in the Clowns and its a nice selection, great ambiance of the room, reminiscent of Jazz at the Pawnshop but better music. Dire Straits The Mans Still Strong has some deep bass passages that came through as they should and the song Brothers in Arms was splendid, the magic of the B3 with Leslie on full display was amazing. Side one of MOFI'S Santana Abraxas 45RPM is a fully sorted out game changer amazing pressing. Steve played a couple Leonard Cohn (sp) tracks that were incredible.Cowboy Junkies Trinity Sessions recorded through a single mic was a pretty special treat. We cranked out a couple usual suspects, Take Five and Hot Stix and the Pink Panther and alas it started getting late and I had to head out.
I do have to ask Steve what the track was that we listened to that sent us under the hood of his kit, all I remember is "a Norwegian gal". While the track sounds beautiful and basic, as it went on there is actually a lot going on in that recording, both musical and ambient, amazing and would like to hear it a few more times.
I was treated better than I deserve and Steves system, while hard to believe, has been transformed to another level, both digital and analog. Again I thank Steve and Kathy for the over the top hospitality.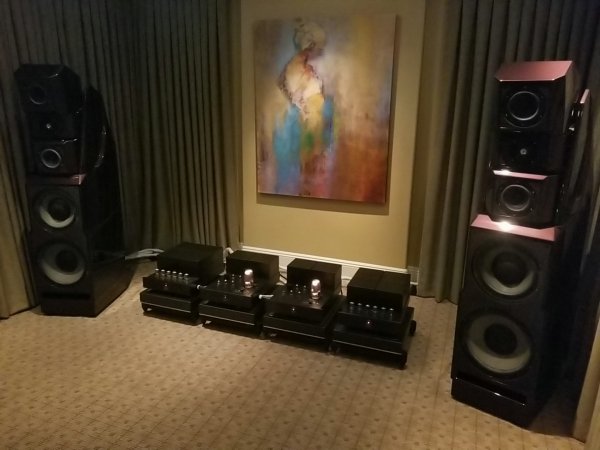 Last edited: