Custom-made cables are always available from Triode Wire Labs, even though it's not stated on the TWL website.
I have a large inventory of "In-Stock"
cryogenically-treated
connectors, including the Neutrik PowerCons, Type A (NAC3FCA), Type B (NAC3FCB), 4-pin NC4MX & NC4FX as well as the large black, High Current 32A NAC3FC-HC. For speaker cables, I have top of the line Cardas connectors as well as Danny Richie's (GR Research)
Tube Connectors
(I have the mating speaker binding posts as well). For interconnects, I have my great-sounding RCA & XLR's, but also have super high quality 50 ohm & 75 ohm RCA's & BNC connectors. As far as traditional power cable connectors, I have a large inventory of super high quality Furutech & IeGO connectors for Europe, England/UK, Australia/NZ as well as for North American applications.
Pictured below is a custom "Digital American" cable set for a Netherlands customer of mine, featuring a variety of Neutrik connectors as well as a TRC (Technology Research, LLC) Shock Shield PRCD device. He's using it on a custom Blue Circle power conditioner. Also shown is a custom short set of shielded phono RCA interconnects.
Below are custom umbilical cables (2 different lengths) for a Modwright PH 9.0 Phono Stage...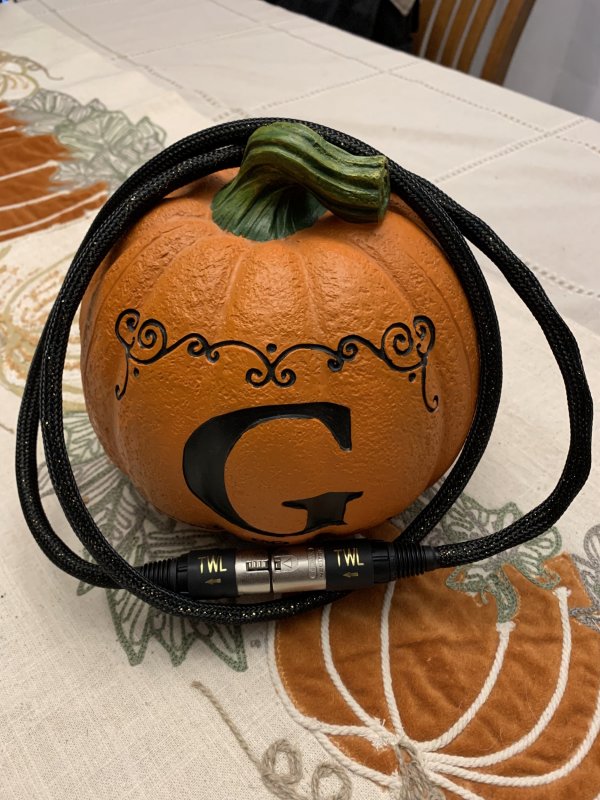 Below is a 3m long REL subwoofer cable for an audiophile in Singapore...
Another custom cable below, this one a unique version of my "Freedom" ethernet cable, but instead of two Telegärtner
RJ45
connectors, there's only one and it's connected to a Oiyagai B074M3FRDP
HDMI
connector. It's for a high end optimal use of a NuPrime CDT-10 professional music CD transport I2S HDMI output (DoP256) into a Denafrips Terminator DAC, that has an I2S-B input (RJ45 input socket)...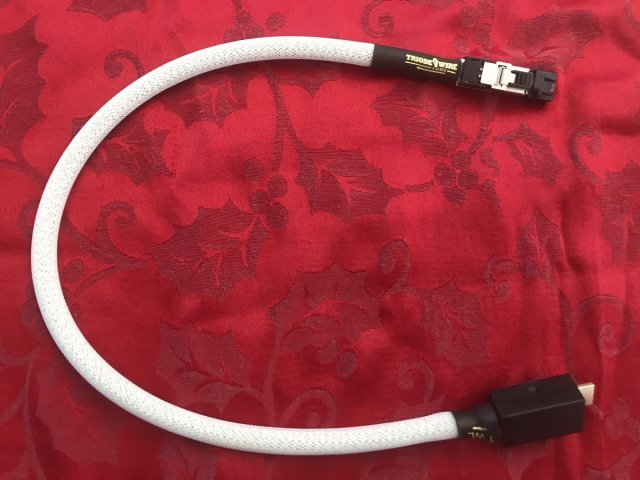 Once again, another custom cable below. This time a "Spirit 50", a true 50 ohm digital cable with precise 50 ohm BNC connectors. This was custom-made for a customer in Chile, to connect a high-end master clock.
Below is a a Special Linear Power Supply DC Power Umbilical Cable, Cryogenically Treated, with an Oyaide DC-2.1G barrel connector to a low mass and low capacitance female XLR connector. This was for a HDPLEX 300W Linear Power Supply...
Below is a a HiFiMAN Adapter from an amplifier into a 4-pin XLR jack for headphones...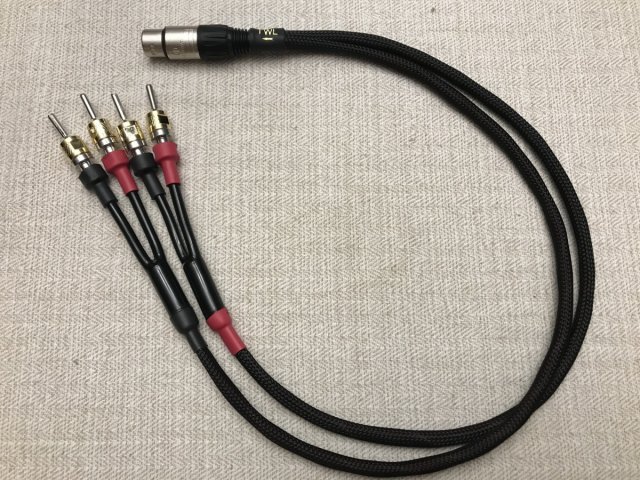 Below is a balanced female XLR connection to a single-ended RCA connection... NO ADAPTERS! Pins 1 & 3 are linked together, whereas Pin 2 is "hot" with the center pin on the RCA connector.
Below is a "High Power Digital American" power cord fitted with a 32 amp-rated Neutrik PowerCon IEC connector. This one is headed to Hong Kong to be used on a custom PI Audio UberBUSS. I've also fabricated an "Obsession NCF" with the same PowerCon connector, used on a GigaWatt power conditioner!
I have several more custom cables, such as a custom step up transformer made by "The Slaglemeister", Dave Slagle. In discussions with Dave, he favors going from mono back to left/right channels after the phono stage. This requires a Y cable between a transformer volume control and tube amplifiers. This one has a female XLR connector on the single source end of the cable and RCA connectors on the split amp end of the cable.
Still another custom cable, this time for a LG OLED CX48 flat screen TV.
I've also made special speaker cable jumpers for a horn system in Singapore as well as a pair of XLR Y-Adapters. Single female XLR to two male XLR connectors.
A special Y-umbilical cable to run from a Jeff Rowland Design Group PC-1 to provide power to two Jeff Rowland Model 201 mono amps. The Jeff Rowland PC-1 is an advanced external power rectifier and conditioner based on the same Active Power Factor Correction (PFC) technology incorporated in JRDG reference amplifiers.This Y-adapter cable features a high quality C14 IEC male connector to two high quality NEMA 5-20 female connectors.
I'll post additional pics later since I'm limited to 10 per post!
Cheers,
Pete