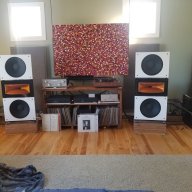 Feb 4, 2019
1,608
1,168
230
Video on electron flow.
I find most topics related to power as interesting. I saw this thread when people posted about Synergistic Carbon Tuning Disc. What really caught my attention was
Energy travels in the electric and magnetic radiated field, not the wire.
Shielding.
Energy flows in a right hand flux perpendicular to the electric and magnetic field.
Traveling electro magnetic fields around the wire carry the power.
So what does this mean to me. These are my assumptions:
It means I question a wire in a metal pipe or shielded. If you shield a wire, you're altering the way the radiated fields interact with each other.
It also means, any device near or around a wire, interacting with the fields around the wire, are altering the energy flow in the wire. Whether this is a positive or negative affect is up to debate.
This is probably a reason any break in a wire, may it be a wire nut, circuit breaker, screw to receptacle becomes a point where an EMI sniffer reads "noise". The electro magnetic field is jumping from one plane to another plane. Now imagine what a wire nut does to energy flow. Not only is the energy jumping planes, it is forced to make a 180* turn. That is why I do not use wire nuts in audio circuits.
Rex