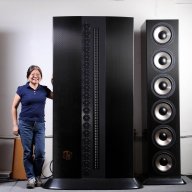 [Industry Expert] Member Sponsor
Excited to announce that we have the first ever showing of a brand new design, the G7 Foxtrot at the upcoming Capital Audiofest, with isobaric loaded woofers! We are also bringing the G7 Minuet - which was seen (and heard) at PAF in June in it's final production form.
Yes, we will have two systems in the Frederick room at the Rockville Hilton. System One will be the G7 Minuet with Heed Audio electronics (there's some sweet synergy there) and the Wand turntable, tonearm and cartridge. System TWO will be the G7 Foxtrot with VPI turntable (a surprise new one!), the VPI Avenger Phonostage (the collaboration between Genesis and VPI) and Merrill Audio amplification.
Who's going?