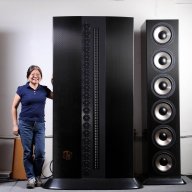 [Industry Expert] Member Sponsor
For Immediate Release:
November 7, 2022
Genesis Debuts the Tribute Loudspeakers at Capital Audio Fest 2022​
WOODINVILLE, WA
– In celebration of the 30th anniversary of Genesis loudspeakers and the 20th anniversary of Genesis Advanced Technologies, we announce the debut of the Genesis Tribute Loudspeakers: the epitome of technologies invented by Genesis founder Arnie Nudell, and advanced with the latest innovations in materials and technology by current designer, Gary Leonard Koh.
The Tribute hearkens back to the design of the original IRS: it features the iconic wide wings, the servo-woofer, the dipole line-source, the planar magnetic midrange and tweeter and a crossover that is "as simple as possible." In addition, it showcases the advanced technologies of modern materials, a suspension with alignment/azimuth adjustment and 20 years of evolution and improvements.
The Genesis Tribute is available by commission only, with choice of veneer and finish.
For Capital Audio Fest 2022, the Genesis Tribute will be paired with VPI Industries' Avenger Direct Turntable, VPI-Genesis collaboration Avenger Phonostage, and Merrill Audio Element 116 MX Monoblock Amplifiers and Kayleigh Preamplifier. All support elements for the system – cables and equipment foundations, are Genesis designed, providing an incredible absolute fidelity® ecosystem for the discerning music lover.