Member Sponsor & WBF Founding Member
Apr 25, 2010
8,350
1,862
400
I've been enjoying my MSB Select II dac and SGM server these last months, and really loved it when I added the second power supply back in August. the music has been really great. but dealing with 4 separate boxes + the dart preamp and optimizing them in terms of shelving and treatments has been a challenge as I did not have the space really. ideally each box would have it's own separate shelf. I have the MSB dac itself stacked on top of the dart pre, both of which are on top of the Herzan TS-150. but the 2 power supplies were stacked on the second shelf both sitting on a set of Wave Kinetics A10 U8's. then the SGM is sitting along side on it's own platform, which is an unused Adona granite/wood shelf on cones into the concrete floor. it's using it's stock footers, as I compared them to a set of A10 U8's and the stock footers (which had been carefully designed into the SGM) were quite a bit better.
I've been waiting for the Taiko Tana active isolation product to arrive, as well as the disruption from the arrival next spring of the American Sounds tt and it's huge rack. so I was slumming along knowing that these boxes were not optimized. a WBF member and I had been emailing about our mutual interest in the Entreq products, and he suggested I try a footer product he liked, and volunteered to send me a set to try. so he did about a month ago, a set of 4 Hardpoint Serene's.
these are beautifully made anodized aluminum footers with dual rolling ceramic balls top and bottom and have an adjustable base to accommodate differences in bottom contours of gear. in essence; it allows the gear to float......completely decouple. I have a PDF of a brochure; and i'm not qualified to sort out what is real science and what might not be. anyone who knows me knows I don't give a rip about why something works. I can forward anyone the PDF and you can check it out for yourself.
i received this set of Hardpoint Serene footers, and tried them under the SGM. wow. immediately the musical focus improved. better textures, more delicacy, noise floors dropped. bass articulation improved. I was very concerned that it would tip up the tonality, but zero case of that. after a week of listening I was pretty impressed, so I asked Esotar if I could get 2 more sets of these to try under the MSB power supplies. these sets finally arrived on Friday. instead of the Serene, these were a newer slightly different and improved version called the Hard Point Trinia.
I had to move things around to allow for the MSB Select II power supplies to each have their own shelf. I moved the American Dream 2 shelf rack over from the right side to the left side next to the Adona rack. put the SGM on the bottom shelf, one MSB power supply on the upper shelf, and that allowed the remaining power supply to have it's own shelf in the Adona rack. and installed the new Hardpoint Trina footers underneath. more wow. but now to another deeper musical level. more subtle.....and far reaching. all those things that had happened with the SGM were now there to a higher degree. the music became sexier. had more swing, and more inner texture. it was not a night and day difference objectively as the MSB had been sounding superb prior to this, but it was a significant step forward.
I was concerned that my putting the power supplies on separate shelves might have been, in itself, what was the improvement. so I tried the power supplies on their own footers (that sucked), and on Wave Kinetics A10 U8's, which while much better than stock footers was not in the nuance realm of the Hardpoint Trinia's. and.....the A10 U8's definitely don't suck.
so I purchased all three sets. these are keepers. I knew I was not going to purchase 5 Taiko Tana active units anytime in the near future. this gives me that decoupling magic I crave.
highly recommended.
as always; YMMV. my system is pretty revealing of differences, and this is the only system I have heard these in. the MSB Select II/SGM are particularly revealing. OTOH the MSB Select II and the SGM likely are the most robustly built of any dac and server too.....so other gear might get more gain from these. the Select II's power supply chassis are milled from solid billet, the SGM weighs 60 pounds.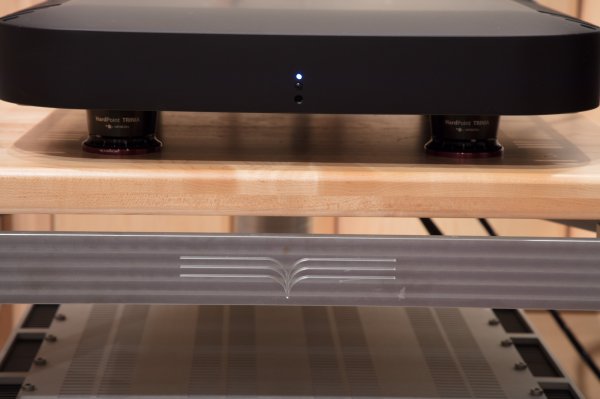 Last edited: