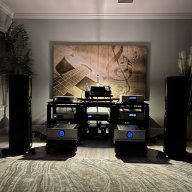 Jan 19, 2019
1,318
1,525
330
J.Sikora is pleased to announce its new, top-of-the-line KV MAX Zirconium Series tonearms in 9- and 12-inch versions. The world premiere will take place on 28th October at the Audio Video Show 2022 in Warsaw (12") and on 11th November at the Capital Audiofest in Washington, DC (9").
The KV MAX is the ultimate expression of the world-renowned and award-winning KV12 series of tonearms. As the world's first Kevlar® tonearm, the KV12 has established itself as one of the world's finest tonearms, receiving many accolades and awards including a Class A rating in the American Stereophile® magazine, a nomination for the International HiFi Press Award for the best tonearm in the world, and the Best Product 2019 award from the Highfidelity.pl magazine.
The J.Sikora KV MAX arms build upon the best aspects of the KV12 arms and takes the performance to an even higher level. We have advanced our one-of-kind Kevlar® arm tube design by reducing its weight, while at the same time increasing its stiffness. To further reduce resonances, we created a unique bearing made of zirconium oxide. The new, improved damping guarantees maximum stabilization of the arm with unrivaled tracking.
J.Sikora is famous for its unparalleled application of metals to reduce the resonances in its table. This approach has been extended to the KV MAX tonearms. We have replaced the majority of the aluminum elements of the arm with bronze. This contributes to an increase in stability and a further reduction of resonances at a previously unattainable level.
This uncompromising design is complemented by the use of cables of the highest purity copper covered with 24-carat gold, made especially for J.Sikora.
The 9- and 12-inch KV MAX tonearms represent a new standard in tonearm performance. KV MAX will extract all that your vinyl has to offer and connect you to the emotion of the music as never before.
Tonearms will be in sale at the beginning of 2023. Price to be announced.