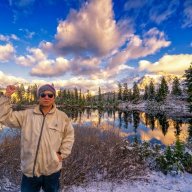 Dec 9, 2018
382
271
63
59
I have more than 40 years of Audio history starting with Garrard Turntable, Fisher Integrated Amp(SS) and ADS bookself speaker on 1978.
I had gone through more than 10 different amplifiers including Krell KSA 150, Jadis 500, speakers including Thiel, Apogee Duetta Signature, Avalon Ascent, B&W 801 Notilus, Wilson Watt Puppy 6.
I gave up LP's when I moved from Berkeley to Chicago by car on 1989, since then I had been playing just redbook CDs.
I have a beautiful listening room at third floor attic in a house at North West side of Washington State.
It's dimension is 20ft(D) x 16ft(W) x 15ft (H) but open to the second floor living room.
Above photo was taken Aug, 2018 before the current update.
After updating systems, now I have the most musical and holographic sound at my home.
My current system is
Lansche 4.1 speaker, Silbaton 300B amplifier, Line Magnetic 508 amplifer, Lyngdorf 2170 used as room correction, Pre and DAC and Jay's Audio CDT2 Mk2 transport.
I am using Spiritual Audio Vx9 power conditioner, Synergistic Blue Power cables, Perfect Path Technologies Ecard, Synergistic Blue fuse,,
Speaker and Interconnect Cables used to be from Audio Note but recently I am auditioning some other cables.
I would like to invite up to 4 people to my listening room and get their opinion on my audio system.
Since the sweet spot is rather narrow, it is not a good idea to invite more than 4 people to my listening room.
We will meet at restaurant near Burlington WA on 12 PM, Feb 9th.
Lunch will be dutch pay (around 16$ per person).
Then we will move to my house together and spend 4 hours and finish around 5pm.
If you are interested in the meeting, please send me a private message to me by Saturday Feb 2nd.
If there are more than 4 people interested in the meeting, then I will select 4 people with more activity in the forum.
On Sunday Feb 3rd, I will send invitation up to 4 people indicating the address of restaurant and my cell phone no by PM.
Last edited: