I think if someone sees this title, some of them must shaking their heads. It is indeed a troublemaker thread.
Although this is my first thread, I'm quite active in this forum and have built a few good connections with members here. I've talked to Ack a lot in PM and gained a lot of experience from him to build a satisfying system (Magico S3 + Spectral SV combo). And I also learned a lot from this forum. For that, I really appreciate it.
But recently, I've done something rare and stupid on my S3 tweeter and don't think someone will have such similar experience, hence I share it here for help.
It all started with the misconduct of the housekeeper. I caught her using the micro-cloth wiping the whole front side of the speakers straightforward, I stopped her but it was a bit too late and cannot blame her much. Then I found there were a few water mark or stain-ish things (detergent maybe) left on the tweeter of my both speakers. I was aware that leave it there will be much safer than trying to cleaning it off and I was also aware of the "do not touch the tweeter" wording on the magico manual. But I just cant stop my OCD and I was so curious to clean it off.
I did do some research before trying: like checking out some science paper of "the corrosion of the beryllium" so that I know that it will be safe to use distilled water or even ethanol to clean the beryllium without any corrosion (
https://apps.dtic.mil/dtic/tr/fulltext/u2/824446.pdf
)
During my day in college, I used to work in the biochemistry lab doing lots of analytical tasks and so I feel confident that I have a delicate hands to conduct the clean carefully. Plus, I was also thinking people cleaning the CMOS sensors of the camera, so BE tweeter can't be more delicate than that.
So I prepared a bottle of distilled water, cotton sticks and KIMTECH delicate task wipers for the clean and that's how I cleaned: dip the cotton stick in the distilled water, and point the stick tip on the stain mark and rolled the cotton stick without any force and dry the water off the tweeter surface gently using the wipers
It was successful on the first tweeter, but the second one did not go well. As the stain on the tweeter did not go off, I rolled the cotton stick a few times and then left an obvious water mark on the tweeter. But I doubt it was water mark as the water is distilled. I think that I might wipe off some first coating or wax coating of the tweeter and hence get such an obvious mark.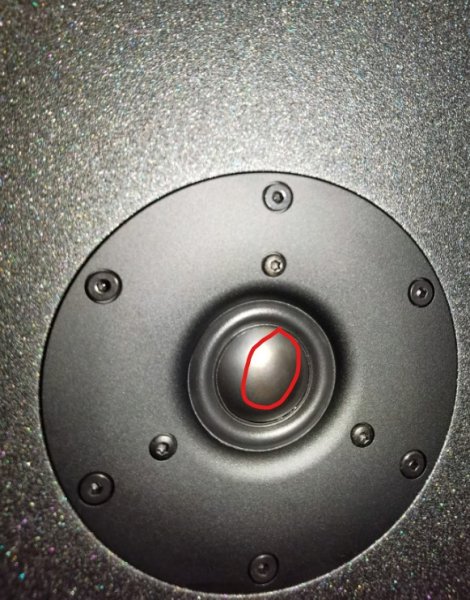 Sound-wise, at least I cannot hear difference since I did not make any physical dent or deformation of the tweeter. But this makes me feel just worse.
I'm planing to upgrade the S3 to M2 when the time is ready and do not want the next potential buyer to see such flaw caused by me and might also an excuse to devalue the speaker. I'm starting to think about replacing it with a new one.
So I need some advice:
1. can I solve such mark? (maybe some insider or more professional dealers know? like applying wax coating)
2. any soldering invovled for replacing the S3MK2 tweeter? How much is the part?
I come here for advice because I think my local dealer has not encountered such issue and cannot give any technical advice.
Any help would be appreciated.