I have been a Wilson Audio fan for many years, starting as a customer then after spending time with Dave & Sheryl I became the distributor for Australia and New Zealand for over a decade. I had the Alexandria X2's and a beautiful system when the GFC hit me hard. In the space of a few years I had lost everything and could no longer do my duty as the Wilson Audio distributor. I even had a period of homelessness. A difficult time of life with many hard lessons learnt.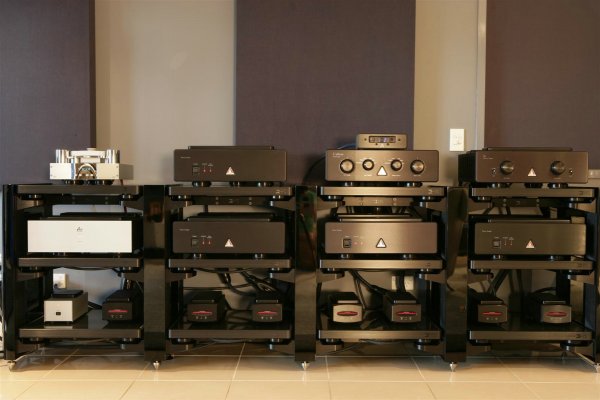 I have loved music since I was a small boy and over the past few years I could not contemplate a 2 channel system, so headphone it was. I am now starting in 2 channel all over again with the help of family and friends. I have just come back from Sydney where I setup and listened for a day to the Alexia's. A good friend of mine is now the Wilson distributor and is being incredibly kind & helpful. I fell in love with the Alexia's. I had asked for them to be driven by the D'Agostino Momentum Integrated which as a tube lover I had low exception of, I could not have been more wrong it was a beautiful combination and exactly my cup of tea.
I am posting here as it this is exciting stuff and I cannot wait to be able to listen to good music reproduction at home again, I also have plenty of questions:
Colour: I have been undecided between Grey and the Darker of the 2 Oranges - I am currently more in favour of the Orange, does anybody else here have that colour or other colours to recommend.
Stillpoints: I have been reading about the Stillpoints Ultra 5's (I think) and I am wanting to get some feedback on those.
Amp: I am going to go with the D'Agostino Stream or MLife as it is only a little more expensive than the normal integrated and gives more flexibility, I am wondering if this is the right way to go?
DAC: I am using the Computer Audio Design 1543 DAC with the CAT streamer, this is a very musical DAC and has the analog sound I enjoy. The Alexia's were paired with the Gryphon Kalliope DAC - anyone have any impressions of this?
Thanks in advance, thoroughly enjoying the community in these forums.
Simon