Opus1 vs. MSL Platinum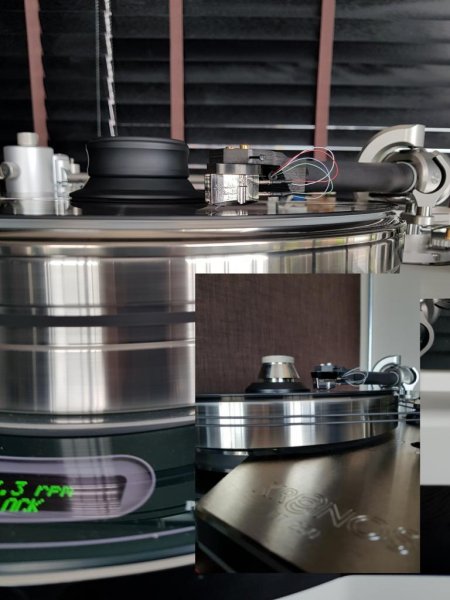 - Variables are Opus1 on Kronos and MSL on AF1. Other things are the same except Opus1 is fully burned in. MSL has 22-24 hrs on it.
- They are like twins. If you don't have in the same system, you unlikely hear the differences. Even I have them in the same system but different tts, I have to sort out what characters come from cart and what come from tt.
- My comments are only initial impressions to let those who want to know get their first glimpse. Any conclusion will be stupid.
- Almost the same tonal balance. Opus1 has a bit more treble in tone. Both have good density, body and texture in mids.
- Same kind of presentation. Both have open sound. So transparent. Hear everything See everything type sound. Those who think highest resolution is first priority should all buy Opus1 or possibly MSL. The Opus1 is a bit more upfront possibly because of Kronos.
- MSL image size and scale of instruments are a tad smaller and a scant further back than Opus1. The stage width of both is the same. But the MSL goes a bit deeper with better layer. This is probably helped by AF1.
- Both have size and scale a bit bigger than the Atlas which I think is most life size for jazz music.
- This is for Ron. The ssssssssibilance. Opus has more. Might bother Ron but doesn't bother me. I only said one has more than the other. Don't imply that it is at an annoying level.
- They are just as quick with fast transient response.
- Opus1 has better inner detail and spatial resolution. Basically king of resolution and clarity. Give MSL more time, it likely follow suit imo. Opus1 was like this when new.
- MSL sounds smoother more refine. This also could be help ed by the AF1.
- Both has tight bass but not as low and solid as Atlas.
- Opus sounds more energetic, fresh, open than MSL..for now.
- Opus1's piano is easily distinguish from the MSL. More resonating sound from piano housing. You can just hear more vibrating sound.
- MSL less bite, rounding off edges
- Same level of quietness. Very very quiet riding groove indeed.
- Jazz at Pawnshop's Snare drum. I could hear the drum sticks hit surface more with Opus1. More awareness of Cymbals and drummer cross-ticking two drum sticks too.
- Clarity and resolution with meat on the bone without being even close to cold or analytical go to Opus1 on SAT.
What I wrote makes MSL seems inferior. Don't draw any conclusion. I will write again in a few months. I am sure MSL will get better and don't go thinking that MSL Platinum is not top cart. Out of the box it sounded better than Ortofon Anna fully burned in...just outclassed.
Tang