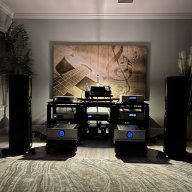 Jan 18, 2019
1,479
1,812
330
I decided to see what would happen if I changed our Shunyata Sigma cable to an
Omega XC
on our
Shunyata Everest
.
The Everest is an outstanding power conditioner, an engineering marvel. It allows the premier components in our system to perform at their highest level. And since we have our Pre, DAC, Transport, Phono Pre, Aurender N30, ACS10, VAC Phono Pre, and Sikora TT connected to it, I thought that the effects of a single cable may make a difference in the overall performance of our system.
But do power cables really make that much of a difference? Honestly, I wasn't expecting much of a change, as the Shunyata Sigma cable is already excellent in its own right.
Well I'm stunned. Cleaner purer power is king. You don't know what's there until it's gone. Though not even fully broken in yet, the effect was immediate. The sound is more natural/organic, harmonically rich, and has a level of resolution and refinement which is exceptional. Dynamically unconstrained. The low-frequency performance has improved. Cleaner bass. Wow!!!
Dire Straits, Brothers in Arms never sounded so live. The Omega allows the beauty of live music to shine thru out your system.
Our entire system is playing at an entirely new level now. Omegas aren't inexpensive, but IMO well worth the money invested. I see another rather expensive upgrade coming….