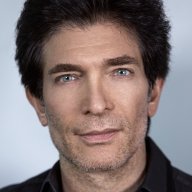 Site Co-Owner, Administrator
Jan 25, 2015
6,162
703
113
JBL EVEREST DD67000
For JBL horn aficionados we saw and heard the top-of-the-line modern JBL horn system: the Everest DD67000.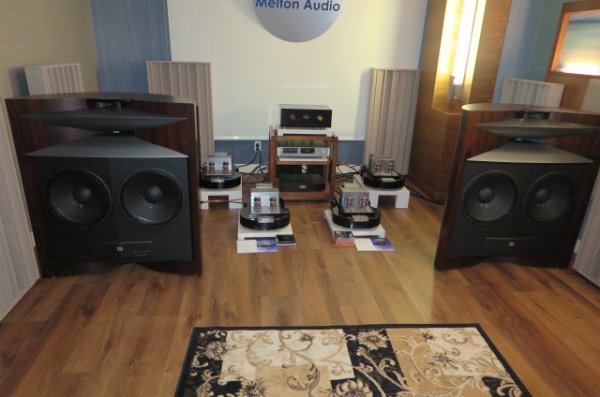 Driven by 80 watt push-pull amplifiers KeithR and I heard great dynamics and dynamic range. We both found the sound to be on the bright side, but JeffT who heard the system the next day — and who owns the PBN Audio M2!5, which features the JBL D2430H mid-range/tweeter compression driver with dual-diaphragms in a custom M-T-M configuration — did not agree.
PROJECT EVEREST DD67000
Under a program called Project Everest, JBL® engineers designed the ultimate loudspeaker system: the Project Everest DD66000. But they wanted to outdo themselves. Using the latest technologies, they created the DD67000. This three-way speaker features dual 15-inch (380-millimeter) three-layer (pure-pulp layers over and under a foam-injection core) sandwich cone woofers for articulate, authoritative bass response. Clear high and midrange frequencies come through a 4-inch (100-millimeter) pure beryllium compression driver. And a 1-inch (25-millimeter), pure-beryllium ultrahigh-frequency driver delivers sounds up to 60kHz – far above the range of human hearing.
Available in rosewood and maple, the Everest DD67000 stays true to our heritage: the world's most coveted sound equipment.
HIGHLIGHTS
• Dual 15″ (380mm) three-layer sandwich cone woofers for authoritative bass response
• 4″ (100mm) pure-beryllium diaphragm for crystal-clear highs
• 1″ (25mm), pure-beryllium diaphragm for extreme highs
• Extremely smooth and wide frequency response
• Proprietary Bi-Radial® horns
• 100 – 500 watts suggested amplifier power range
• Excellent terminals and system controls
• Bi-wiring capabilities
Flawless enclosure construction (Less)
SPECIFICATIONS
Description Dual 15″ (380mm), three-way, floorstanding speaker designed for a superlative listening experience
Frequency Response 29Hz – 60kHz (half space); 45Hz – 60kHz (anechoic)
Recommended Amplifier Power 500 watts
Sensitivity (2.83V @ 1m) 96dB
Nominal Impedance 8 ohms; 5.0 ohms @ 80Hz; 3.0 ohms @ 40kHz
Crossover Frequencies (Hz) 150Hz (LF1 6dB/octave) 850Hz (LF2 24dB/octave) 20kHz (UHF 24dB/octave)
Ultrahigh-frequency Drive Components 1″ (25mm) pure-beryllium compression driver
High-frequency Drive Components 4″ (100mm) pure-beryllium compression driver
Low-frequency Drive Components Dual 15″ (380mm) three-layer, pure-pulp sandwich/foam core cone woofer
Height 43.7" (110.9 cm)
Width 38" (96.5 cm)
Depth 18.5" (47 cm)
Weight Weight: 313 lb (142.1 kg) / Shipping Weight: 383 lb (173.9 kg)
Finishes Rosewood or Maple