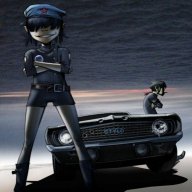 Jul 2, 2015
1,227
375
340
Ok lets start with an apology to WBass for taking over his excellent thread about 'Horn Speakers available in the UK' with our petrolhead-chatter.
Out of respect to them, let's begin a fresh thread in the right place☺

So i invite you to list your significant car history, or your current garage, with any insights into why you chose the models you did, and what they mean(t) to you

My own history:
First car 1970 Triumph Herald 1360.
Freedom! My first car....and my introduction to standing by the side of the road awaiting a breakdown truck.
A challenging, no strike that, a bloody lethal first car due to it's antiquated rear suspension that would load up in hard cornering, and then spit back at you as you exited the corner. No synchro mesh in the gearbox, no brakes whatsoever, floaty steering and handling....and i realised that classic cars are not for me.
I was lucky to get out of that in one piece

Ford Fiesta xr2
My mum's car, and a rather galling experience. Proof that i preferred the desperately uncool hot hatchback over an English style icon. Right up until the point i rolled it, age 18.
My mum didn't speak to me for three years because it was actually hers

Lotus Sunbeam
My first decent car. And what a handful. Powerful engine in a short wheelbase rwd hatchback, it asked very severe questions of the driver, and remains the car i have spun the most times. It was ok when you were attacking flat out, but when you were cruising it could catch you out with the back stepping out on wet roads at piddling speeds. A car to lend to someone you don't like...

Toyota AE86 GT Coupe
A proper machine. Reliable as well as quick. My first taste of Japanese motoring set a very high standard.
Kept this for almost a decade, mildly tuned, stage one. Another short wheelbase rwd coupe, also a handful in the wet.

Westfield SEi
Poor man's Caterham 7. Remains the newest car I've owned...and one of the worst ownership experiences.
Taught me never to buy British again. The car itself was enchanting at 500kg's, but the fact that bits kept falling off and how awful Westfield were to deal with meant it got traded after only a couple of years. And i didn't half feel a wally driving it in central london, as i was living on Ladbroke Grove at the time

Toyota Celica gt4
Back to Japanese, and my first grey import. In truth it was a big disappointment after the Westfield, too heavy and remote after the whole 7 experience of piloting a laser beam. Ended by a driver falling asleep on the M1 and piling into the back of me. I spent the insurance payout on importing a...

Nissan Pulsar (Sunny) gtiR
A proper weapon. Everything the Celica wasn't. Positive, responsive, limpet- like grip from 4wd and 230bhp, although i got it up to close to 300 before it's passing. A greatly underrated machine.
Regrettably mine got stolen in Battersea.

R32 Nissan Skyline gtr
Another grey import, and really, the ultimate by a long way. This remains my benchmark for a road car. Tuned it gently at first, then after a bottom end failure caused by a tuner's oil leak, we went for a big power 3.0 build, dry sumped, roll cage and lighweight grp doors and lexan windows
It made 620 at the wheels, now we're reshelling and aiming higher

Toyota mr-s (mr2 roadster, the lightweight Elise clone)
Could this be the most underrated car I've owned? If you value feel and mid engined traction, plus added lightness on a budget, this is a must have. Bought to fill the gap while awaiting my Skyline, I'm on my second one 15 years later, with a 2zz engine and 6 spd gearbox swap, bored and stoked to 2.0, cams, stand alone ecu, Aragosta coilovers, makes ~240bhp

Mitsubishi Evo 6 gsr
My current project, hoping to be finished by Christmas. All my usual tricks, 4g64 block, bored and stroked to 2.3, steel internals, dry sumped, initially will be limited to 420bhp on standard evo 9 turbo, but once I've recovered financially we'll be back to take advantage of the strength we've built in with a big turbo and injectors and a standalone ecu. Should make an easy 600 whp when finished.

Ftr, there's also been plenty of 1 litre fiestas and the like during lean times and while awaiting builds.

So. There's my history. What's yours?