Two audiophiles in Hong Kong ordered the new Twelve Mk2 dac without prior audition and one of them is my friend.
The two Twelve Mk2 arrived yesterday at the Totaldac HK dealer and one of them was delivered to the buyer.
My friend was on a business trip and had asked the dealer to burn-in the dac for him before he's back.
I rushed to the dealer showroom for a listen yesterday afternoon.
The accompanying components were SGM EVO Edition Server, Westminster Lab mono poweramps & Volent VL3.5 speakers.
Most cables were from Westminster Lab but the usb cable was the fabulous Intona Ultimate USB Cable.
Network consisted of Synology 916+ NAS, Clones Audio modded Cisco Switch, Telegartner MFP8 Gold II ethernet cable.
The Bespoke TVC passive preamp was used for most of the audition.
The Twelve Mk2 is a 4-chassis version.
The Nagra HD Preamp was used for audition for a short period of time too.
For this 4-chassis version, all the powersupply modules are placed inside a standard Totaldac chassis.
It has 3 DC cables coming out to supply the two DAC modules and the Reclocker/Syn module.
Placement of the whole dac set is easier and the whole dac set needs one powercord only.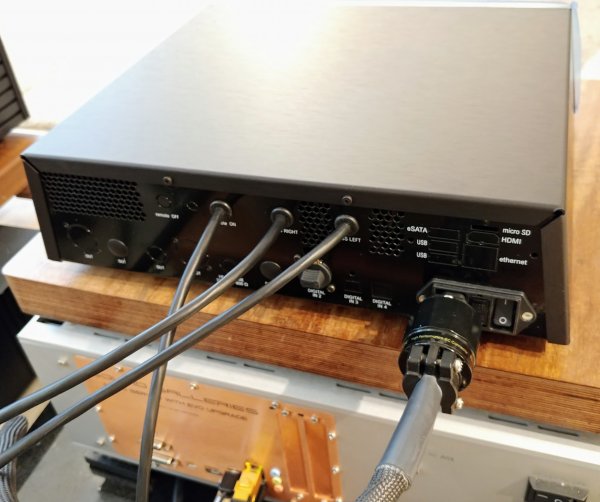 The two Mono DAC modules :
Last edited: