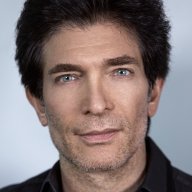 Site Co-Owner, Administrator
Jan 24, 2015
15,224
12,026
2,665
Yesterday I heard for the first time the system of WBF member Jimford. Jim has Westminster Royal - Gold Reference loudspeakers. This is a giant 300 pound box loudspeaker with a dual concentric tweeter/15" woofer combination which is horn loaded. The speaker has a 99 dB/watt sensitivity specification.
Each cabinet has a volume of 18.72 cubic feet (530 liters), and dimensions of approximately 55" x 39" x 22."
The speaker can be adjusted +/- 3dB over 1.0 kHz to 27 kHz for shelving, and +2dB to -6dB per octave over 5 kHz to 27 kHz for slope.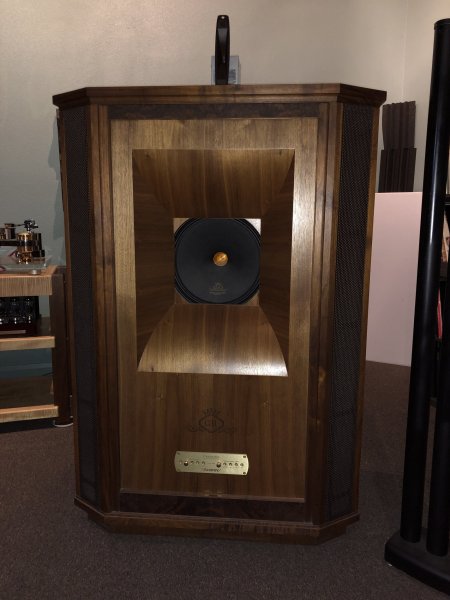 Importantly, Jim has sitting on top of each speaker a vintage rebuilt Dukane DUK10 plasma tweeter. These tweeters receive a high pass signal at 7,500Hz.
The turntable is a Denon DN308 which been reconditioned by Peter Noerbaek, proprietor of PBN Audio, into the PBN-DN308 Groovemaster Vintage Direct Drive turntable. The PBN website states:
Dubbed the DN308, it was created through the unique partnership of Denon and the Nippon Broadcasting Corporation (NHK) – and audio history was made.​
PBN Audio has searched out and acquired several of these rare players, and has transformed them from their original commercial console mode into unique works of audio art: The PBN-DN308.​
​
Key components of the original electronics – most notably the unsurpassed motor – have been refurbished and reconfigured. Details, such as the speed selection switch and power toggle, have been retained. The model number plate and authenticating documents are provided as well. All original parts are from the same unit. A special LCD display shows the precise rpm, to 1/1000 per revolution, in real time. The start/stop backlit buttons showcase its lightning-quick response.​
​
​
The turntable sits on a steel plate with a gorgeous custom walnut top and sides. The turntable and the table top both sit on a pneumatic auto-leveling Vibraplane system modified by Peter Noerbaek for this purpose.
This turntable is amazing sonically, and gorgeous aesthetically. Anyone who is interested in direct drive turntables, in vintage turntables, or both, should seriously consider purchasing this turntable and custom table top and customized Vibraplane support stand.
On the PBN's tonearm rides a Hana cartridge.
Jim uses an Audio Research phono stage, line stage and stereo amplifier.
I think the sound from this system is very organic and natural and coherent. There is natural, smooth detail without anything being emphasized or etched. Bass is very strong but natural. The system is very dynamic.
I think many people would make the mistake of driving these 99dB sensitive speakers with five or 10 or 20 watts of flea power. I think Jim is very smart to drive them with 100 all-tube watts.
The center of gravity of the frequency balance of the speakers is in the lower frequencies, which is what I personally like. (I consider the center of gravity of the frequency balance of the vdH cartridges to be located in the treble range. This speaker is the opposite of that.)
Jazz instruments were extremely convincing. My test track "Great Gate of Kiev" from Chesky's
Pictures at an Exhibition
sounded fantastic!
My overriding sensation from the table set-up is "drive." I guess "drive" is what direct drive turntable aficionados want from their turntables, and I can hear why. The sound was alive, and propulsive.
Jim wants to put a second tonearm with a top-of-the-line cartridge on the PBN, and I think that a vdH Colibri Stradivarius or Master Signature cartridge on a 3012R might be amazing in this system.
I think the organic-ness and the coherence and the musicality comes from a single dual concentric driver in a gigantic cabinet horn loaded for high sensitivity prodigious bass and warmth-up frequency balance.
This vintage plasma tweeter was very cool. Without it I think the Westminster may have a more vintage sound with inadequate detail and too-soft high frequencies, but this is mere speculation. With these plasma tweeters the high frequencies sounded perfect to me. I can't really imagine the speakers without them. (Audiophiles who enjoy Soulution electronics on Magico speakers or MBL Reference electronics on MBL 101E Mk. II speakers will find this entire system unacceptably rolled-off in the high frequencies).
It helped a lot that Jim has a big room of 24 feet long, 20 feet wode and a 10 foot tall ceiling The speakers are located on the long side of the room. With a smaller room these speakers would not have been able to breathe and develop the wonderful soundstage I heard yesterday. Truly, the room is the single most important component of our systems.
This speaker sounds conceptually similar to JeffreyT's PBN M2!5 Jeff Tyo Special Edition speaker. I think Jeff's PBNs are slightly more neutral and more extended in the high frequencies, with less of a low frequency foundation type of sound.
My only criticism of the Tannoy is I feel that they are not the last word in transparency like I like and like I'm used to with electrostatic loudspeakers. I think these Tannoys are absolutely amazing on jazz and classical, and rock, but they would not be my first choice for solo vocals because of a slight diminution in transparency compared to ribbon speakers and to electrostatic speakers. But in fairness I think the transparency will go up a notch with a vdH cartridge.
I could sit and listen to this system all day. It sounds very analog, very musical!
Bravo, Jim, on an amazing system in a wonderful room!
Last edited: