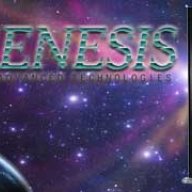 WBF Technical Expert (Speakers & Audio Equipment)
The Genesis II was a magnificent beast. It was one of the first Genesis speakers I fell in love with in the 90's. Six feet tall, nearly 3 feet wide, twelve tweeters, 48-inch midrange, four 12" woofers, the G-II were the best loudspeakers if you could afford the Genesis I. Many owners have had their G-II's since day one, and now over 15 years later, are wondering if they can be upgraded/fixed.
With any loudspeaker, the moving parts wear out - and with the G-II, the only drivers that move enough to wear out are the woofers. The ribbon tweeters (unless blown by an errant tube amp) would last "forever". Same thing with the midrange. The original "brown" woofers were made of an aluminum/kevlar sandwich with the brown coating being a damping varnish. Unfortunately, try as we might, we could not get the cone material made. However, the current 12" woofer used in the Genesis 1.2 can be used. The original holes will have to be enlarged, and this can be easily done by an experience woodworker or a handyman.
Unfortunately, the servo-bass amplifier did not have the same longevity, and might be one of the first things to fade out. The electrolytic capacitors in the power supply would be the first to go, and then, unfortunately, take out the logic circuits. As these used EPROMs and a logic chip from the early 90's, it is not possible to fix the servo-bass amplifier if it dies. The IC's have been obsolete for over 10 years already, and even new-old-stock are no longer available. Also, we are not able to re-program the EPROM even if we could find the chips. Whenever I speak to an owner of a speaker of this vintage, one of the first things I would ask them to do is to go to a good local electronics tech and have all the power supply electrolytic caps replaced. It's good insurance especially since the old Genesis Technologies servo-bass amplifiers run HOT!
The solution would be to upgrade to the new Servo-Controlled Amplifier from the new Genesis 2.2.... unfortunately at modern prices.
The midrange ribbon was manufactured by Carver Corporation, another company that has already gone defunct. A midrange using the crossover and midrange from the new G2.2 is also possible here. A couple of customers have at the same time replaced all 15 tweeters with the new one - just for peace of mind.