I visited audioquattr last week and, after I swore to him that I would not say a word about this amazing new system, I had to have Tinka put duct tape over my mouth because I have been bursting at the seams wanting to tell people what I heard from this system.
From the one-of-a-kind Cessaro Zeta system we all heard in Munich this year, to the Alieno amp (which I heard at Jeroen's over a year ago), to the Grado Epoch on the absurdly complicated looking but amazing sounding Reed 5T on a brand new TechDAS AF3 Premium sitting on a Stacore platform, to the lengthened dedicated listening room, to the in-the-wall giant subwoofer drivers this is, to my ears, one of the two or three best systems I have ever heard in my life. (Jeroen also has the world's first client copy of the brand new Alieno line stage preamplifier.)
Now that Jeroen has posted a photo of his stunning system on the AF3 thread I can finally spill the beans. This is such a unique system, with multiple presently one-of-a-kind components, I told Jeroen that, like MikeL's system, among the systems I have heard personally, I think this is a system of real significance in the world of high-end audio.
After I visited Jeroen I did not write a coherent, comprehensive visit report like I normally do. So my observations on this thread are going to be more stream of consciousness rather than my usual coherence.
I did not even take any photos while I was there because I almost did not trust myself not to post them. I did take a cool video, but I do not know how to upload it here. Update a photo here: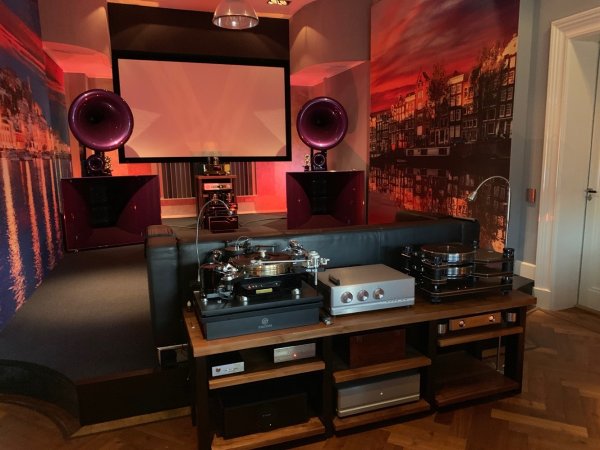 Last edited by a moderator: