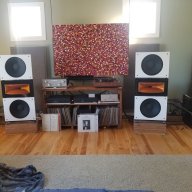 Feb 4, 2019
1,608
1,168
230
For most of my digital time I have said a CD and a Server should sound the same as they are both computers of sorts. I have been worked over by friend and some industry professionals who are telling me, No, they don't handle the digital packets the same. And not handling them the same means that CD can operate over SPDIF/AES/I2S and perform better. What is interesting to me is not a CD player, but and SD player. I have been told an SD player is basically the same as a CD. Accept the media is on a SD storage card. Because it is a card, albums and playlist can be loaded for playback. Apparently the way the data is taken of a CD is the same as taken off an SD card. The difference being you don't have a transport and optical jitter.
I started looking into this further and read a thread on Audiophile Style
https://audiophilestyle.com/forums/topic/55533-audiophile-sd-card-transport/
There is a bit of confrontation in here as Barrows says a SD player not operating much different than a computer. It therefore should have no advantages over one. I have a pretty decent server and DAC and have been told my DAC performs better when feed by a CD player via SPDIF. When the SPDIF input is optimized of course. But for the most part SPDIF vs USB, I am told SPDIF is going to be the superior protocol.
I read the reviews by 6 moons on the Soundaware player for $4500.
https://6moons.com/audioreviews2/soundaware4/1.html
The frustrating aspect is the reviewer is using a non audio source, a laptop to feed his DAC. Of course any purpose built music player is going to sound better than a laptop. So this review has little relevance. But my interest is still piqued.
I also looked into the Quqos QA661 SD player for $700. I could not find anything.
http://www.qlshifi.com/en/wzcapi/qa661.htm
And then there is the very expensive Less Loss Laminar.
https://www.lessloss.com/laminar-streamer-sd-player-p-207.html
If you feel the need to spend $91K this is the one for you.
What are digital aficionado hearing about SD Players. Are they the wave of the future. Should I consider one. I do find the Soundaware interesting in that I could drive my server through it for possible higher performance. Basically it becomes a USB to SPDIF converter. But is the gain worth it. Will I get a notable gain in performance using the SD interface.
Rex