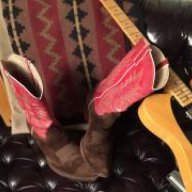 May 11, 2012
2,680
164
1,150
I got one of these today and have been experimenting with it. The device has been the subject of a couple of formal reviews and at least one poster here, DMNC02, has been using one as a 'damping device' on top of his electronics. I am using it right now for its primary intended purpose- as a record weight. It has the same isolation elements that the Stillpoints Ultra 5 does, and those face the record label, embedded into a weight that otherwise looks like a nice, albeit somewhat expensive, record weight. My table is the big Kuzma, which normally uses an even heavier screw-down weighted center clamp. Sonically, there are differences. Most noticeably, with the Kuzma weight in place, the records I played (a variety of classical, jazz and pop) sound more propulsive. The system seems louder. With the Stillpoints device in place, the system seems like it is playing at a lower volume, but everything is there, it's just not as 'in your face.' Frankly, I was going back and forth as to which one sounded 'better.' I am still not sure and will continue to listen and fiddle.*
Reason for post: first, anyone else using this thing for its primary purpose, as a record weight? I gather that it is pretty good as an electronics 'damping plate' and Stillpoints itself recommends such usage (sort of like 'off label' drug usage?)
Second, this raised a bit of a philosphical issue in terms of the overall system and how it is 'tuned.' Maybe the Stillpoints is doing exactly what it promises, and is reducing resonance, perhaps to a degree that the system is now 'out of tune.' In other words, maybe I have to revisit the crossover settings to the woofer, or other aspects of system set-up because what i was hearing benefitted from a degree of resonance at the source (call it a form of distortion) that the system was tuned to accomodate. Now, if the system is actually delivering a less distorted signal from the turntable, I'm hearing its shortcomings more.
So, I will probably fiddle some more. Or maybe Franc Kuzma knew exactly what his turntable needed to make music and I should leave well enough alone. I don't know. But, the philosphical aspect, if I could put it squarely, is that perhaps by improving something, I'm revealing other system shortcomings. Yes, this way lies madness, and is exactly what the anti-tweak school rails against:- the endless fine tuning using expensive widgets in pursuit of something that has you going in circles.

_____________________________________________________________________________
*The Kuzma has one of those little metal discs that you put on the platter at the spindle, like an old-fashioned '45' insert, to create more clamp pressure using its factory clamp, i.e., from the bottom up-platter, spindle disc, record, then weight on top. I tried the Stillpoints both with and without the spindle disc. My current thinking is that it may interfere with what the Stillpoints device is intended to achieve and my listening comparisons later in the session involved not only changing out the record weight but removing or replacing this 'spindle disc' depending on which weight was in play. I'm not sure about this either. (Yes, I will be in touch with Paul at Stillpoints and Franc at Kuzma on the subject).