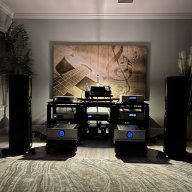 Jan 19, 2019
1,143
1,292
290
Oz, the U.S. rep of Vitus, is an amazing audiophile. I've only spoken to him on the phone, and thru email, but he has extensive experience in High End Audio, and is a true gentleman. He knows audio.
Oz sent us a demo (thru our dealer - Tony @ Ellington HiFI) of a Vitus Integrated Amp - the Vitus RI-101 MK II (an entry level Vitus unit). If we enjoy the sound, then our plans are to obtain the Vitus SM-103 Mono Amps - Class A. According to Oz the sound between the two is very different, but the RI-101 Integrated Amp demo will give us a sense of what Vitus is all about. They are competing with the Westminster Labs REI monos.
The unit is all but brand new - maybe 25 hours or so. So, I'm definitely going to have to allow it some more hours before making any comments on the sound. It will be on 24/7 for the next week or so.
I will comment about the mighty small remote that is supplied with the unit. It's app the same length as an Apple remote, but not as wide. It is thicker than an Apple remote and much more beefy. From what I understand, this isn't the same remote that is supplied with the 103s.