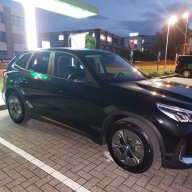 Jan 23, 2011
4,170
80
160
hello, i have some questions regarding tubes in the cat i have ,here is the picture , it does have a legend front panel and left /right volume switches just like in the legend not volume /balance .
(some in between design???)
DSC_0454
by
andromeda61
, on Flickr
If i look at the print the left section would be phono and the right linestage .
the linestage is quit, the phono not so anymore , it was a second hand unit when i bought it .
The tubes in the phono section are from several brands , JJ EI Sovtek and tubes with only a typenumber/letters
Any body any recommendations on a nice new set of quit tubes , the same type of course , although i dont know what has been changed by the previous owner so i might alter brands .
Ive cleaned all the switches with contact cleaning spray and the line /phono switching noise seems to have dissapeared , also the sound seems to have improved by cleaning the switches and in and out puts
The sound is phemenol still , the tube sound quality is still very good , this audiocomponent amazes me , or maybe it was just that an improvement over the nagra plp which is no competion for this thing , this is a complete sounding musicmachine from the bass to the the top
I m gonna also clean the tube pins and sockets
henk jan
Last edited: