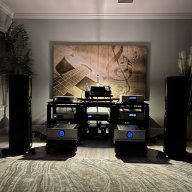 Jan 19, 2019
1,138
1,281
290
Got the new Radiohead LP album Kid A Mnesia (not even 180grams, what a shame) on the way home from office today together with a pair of Shunyata Alpha RCA.

Can only say WOW. Unfortunately once again it is proven that this slipper slope called HIFI, unfortunately always delivers quality in relation to investment. The Soundstage all of a sudden made an incredible widening of at least 0,5 meters in each direction. Vocals more defined and 3D. Instrument separation increased. The base faster, harder and more pronounced. To be fair, now the Shunyatas didn't go up to any hard competition. They replace a pair of Wireworld Solstice 7 (Silver plated OFC), but anyway. I am extremely satisfied with this investment!
And they are just getting started. Some more hours … Congrats. I think Shunayta makes some of the best cables in the business.