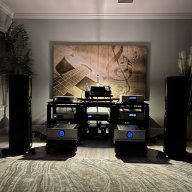 Jan 19, 2019
1,058
1,182
275
In case you are not familiar, Westminster Labs REIs are mono amps.
https://www.westminsterlab.com/rei
The are relatively small and light weight Class A amps. Into 4 ohm speakers, such as our Magico M3s, they deliver 200w of Class A and if I bridge another set they will deliver 800w of Class A.
We will hopefully begin our demo eval this coming Friday. We will have them for app a week. We will post pics when they are delivered.
After this eval we are doing one more demo eval. That eval will be for the brand new model of BAT amps (solid state). We will only have a stereo amp in for eval, but if we enjoy them "more" than Pass and the REIs then we will be purchasing the mono version.