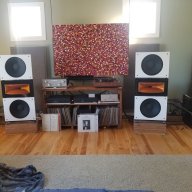 Feb 4, 2019
2,027
1,498
260
I'm going to go with the Elliot path of thinking. Its not just a speaker, its a system.
Dartzeel - Evolution at Mikes
Wilson - Gryphon at Marty's
Magnepan - AR Ref at Definitive audio.

What all these have similar is a very good room. The first 2 have hyper attention to detail and tuning. The last was probably set up in a few hours.
All have excellent amps and front end equipment supporting them.

At times I am surprised how much I like my speakers. Especially when I have a good 15 ips tape running. If I placed them in a premium room with well integrated subs, I could probably say I don't need to look further. I think my speaker, amp, preamp,15 ips tape and TT are end for me. I still need a better cartridge/phono pre/stand for the vinyl. The digital is never going to make it. But the digital is darn good for daily play, research and general fun listening. I don't ever see having the money to take digital to the next level. I will have a better room one day. We are making another offer on 5 acres on Vashon Island. I will know tomorrow if we have the land. My gut says no, but time will tell.