Greetings!
I'm not sure what to call a speaker that looks like a character straight out of
The Nightmare Before Christmas (1993) - IMDb
.
My name is Russ and I'm new to WBF thanks to meeting and striking up a friendship with Ron Resnick a few months back. Ron is a pretty convincing WBF evangelist, and he encouraged me to share these speakers with the WBF crowd. My background is in both hi-fi and pro audio. I've mixed live music for over 30 years. The sonic character of big woofers and horn-loaded compression drivers is burned into my lizard brain. The first great playback system I heard was in the recording studio at Golden West College where I studied audio engineering. The studio control room had Urei 813 studio monitors driven by Crown amps. I've been chasing that sound ever since.
To my ear, most hi-fi speakers sound small, constricted, and overly bright compared to properly tuned, high efficiency studio monitors. I haven't had a typical hi-fi speaker in my home system since the mid '90s (PSB Stratus Silver). Since then I've owned Gallo Nucleus Ref 2 (never should have sold them), VMPS RM30, Zu Soul, Tekton Double Impact, and most recently, Duke Lejeune's original Jazz Module. I love the Jazz Modules and will hang on to them for when I want to put a system in a smaller space.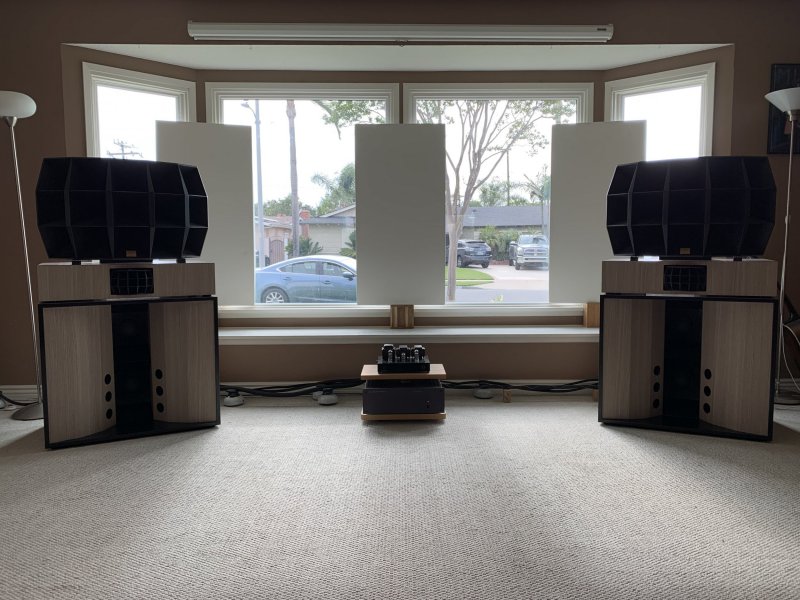 This speaker represents a current technology implementation of an old-school design. The core parameters were established in the mid-'30s by the Shearer Horn Project.
SHEARER HORN (audioheritage.org)
The Shearer Horn was developed by engineers from MGM, RCA, Lansing Manufacturing, and Western Electric to provide dynamic, articulate sound for movie theaters. John Hilliard's white paper, published in 1936, established the following parameters:
Frequency response of +/- 2 dB from 50 to 8,000 Hz within 3 meters of the mouth of the horn
Volume (dynamic) range of 60 dB
Phase delay of less than 1 ms between drivers to create a point source
Angular distribution of 110 degrees horizontal and 60 degrees vertical with a uniform response at all positions
The engineering parameters of the Shearer Horn still hold up today. At the time, movie playback systems were intentionally limited to 8 kHz because "above 8000 Hz noise, flutter, and harmonics due to recording deficiencies become decidedly the limiting factor." The need for higher bandwidth speakers came later with the post-war implementation of magnetic tape recorders and LP records for music recording and playback.
My friend Justin Weber is the visionary behind these speakers. Justin designs and builds tube amplifiers for his
ampsandsound
brand. He builds speakers for fun. Last fall Justin told me about his multicell horn project. He set out to build a speaker that marries the magic of multicell horns to proven bass bin and crossover designs and reliable, great-sounding drivers. Justin's a dreamer. He loves building big speakers that push the boundaries. When he told me he was selling the multicell horns because he needed the space for his next project, I snapped them up. I heard enough of that multicell magic at his place to hook me, and I knew I had the room and the gear to make them work. By the way, Justin will be at THE Show this weekend, June 10-12, Long Beach, CA. His power amps will be in the Acora Acoustics room and he will be demonstrating headphone amps in the Headphonium.
Each speaker channel consists of:
My additions to the speaker:
Behringer CX2310 analog electronic crossover for the bass horns and subwoofers only. Behringer | Product | CX2310
B&K ST1400 II solid-state amp to direct drive the bass horns.
Two sealed down-firing 15" subwoofers powered by a cheap-ass pro sound amp.
The rest of the system:
Almarro A205A II, EL84 SEP, 5 wpc
EAR 868 phono pre/line stage
Denon DP80 direct-drive turntable in a custom plinth by ampsandsound
Jelco TK950L tonearm with Ortofon SPU Classic E or Denon/Zu DL103 cartridges
Denon TA-401 tonearm with Shure M95ED, Grado MCZ, or Ortofon 2M Mono cartridges
Digital stuff blah, blah, blah
Getting the horns integrated into my system has been a process. After six weeks I feel like I'm about 35% there. The first challenge was managing the system's gain to minimize noise and optimize volume control range. The speakers are so efficient that the initial usable volume range on the preamp was between 7 and 9 o'clock; way too low. After futzing around with various adjustments, I ended up building and inserting -15 dB resistor pads between the preamp and amp. The usable volume range is now between 9 and 12 o'clock.
The ongoing challenge, as with any speaker, has been to get them tuned to the room. To establish a reference point for the speaker's balance, I compare what I'm hearing in the room to the same source material played through level-matched Audeze LCD-X headphones or Noble Kaiser 10 IEMs. The multicell horns effectively take out the room within their bandwidth of 500 Hz and up. I sit 13 feet away from the speakers and get near-field presentation. It's the transition from the big multicell horn to the bass bin that gets challenging. The crossover frequency sits at the lower end of the vocal range. Using an electronic crossover on the bass bins allows me to tune the transition by ear. Drop the filter frequency too low and voices sound thin and telephonic. Push it too high and voices get bloated and muffled. The sweet spot is not hard to find. The crossover is within reach of the listening seat so if I want to, I can tweak it to get the right blend for each record.
I think that's enough for now.
Russ
Last edited by a moderator: