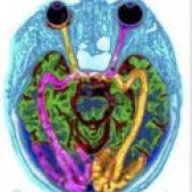 Apr 20, 2010
1,889
1,190
585
Although I used to be a regular at Audio shows, I haven't been to CES or RMAF for a few years, so I was looking forward to attending AXPONA. To begin, the venue was a good one. There was a nice crowd, but it wasn't unendurable. You could easily get in to hear and see most of the exhibits without feeling stressed. There was an initial impression that the world of aging audiophiles seems to be marching on. There were few and far between young people to be seen. In fact, I was reminiscing about the "good ol' days" at CES with Harry Weisfeld whose spot-on observation was that he was now running into people who just had their 2nd and 3rd cardiac bypass! He was spot on. Even though this sign was promptly posted, I didn't see a whole lot of folks use the stairs! If you saw the crowd, you'd know why.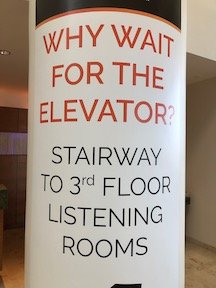 So, what was noteworthy? Let's start at the top of the food chain. There were a number of impressive sonic treats but the one that captured my attention was the Gryphon room. Philip O'Hanlon, who is never short of spectacular music to play, had the new Trident II speakers singing with all Gryphon electronics. It was also the debut of the new Gryphon Ethos CD player/DAC which was perhaps Flemming Rasmussen's last designed product. The sound of the system was so musical, natural and right that it would be a waste of time to try and guess if one was listening to Tube or SS, analog or digital. It was just damn fine music reproduction (although it was SS and digital to be clear). It's always hard to listen to a completely new system and try to dissect why it sounds the way it does. But in this case, I think there's a not so secret element here, and it had to do with the use of silver connectors and wires throughout the system. (No rhodium here!)
But the highlight of the Gryphon room occurred after hours when some live music was performed by two extraordinary Russian artists; a guitarist and an instrument that was a Russian variant of the mandolin. (From what I'm told the mandolin player is the best on this instrument on the entire planet, and let's just say that this guy took no back seat to Eric Clapton. They were both extraordinary musicians.) I hope that Philip will reveal more if he wishes. What knocked me out was that the guitarist was the wife of Seguei Timachev, the head designer at Stealth Audio. I've been communicating with Serguei about some various cables and connectors for almost a year and was surprised to meet him unexpectedly at this event. For no other reason, that was a highlight for me.
The next best things I heard at the show included the Tonda loudspeaker made by a company called Vimburg. This is a lower price point product from the German company Tidal. The product is made in the Tidal factory using a slighter lower range of Accuton drivers, a wood rather than composite cabinet and uses high quality crossovers with first rate construction. It is a musical knock-out; warm, musical, engaging, and emotionally fulfilling. They just sounded, wonderful and hit many of the right notes. This is a speaker I would consider owning if I was in the market for a speaker at the 36K price point. It was genuinely a treat to listen to these. I ran into Mike Lavigne at that demo who was also smiling so I'd love to learn his thoughts as well. I knew nothing about Vimburg before I heard them, but then did some homework on their web site. Much to my surprise I found out that Jeff Fritz, who recently moved to a new room and is in the process of downgrading his mega-expensive system, just ordered these for himself and they are apparently due to arrive around June. Seems Jeff knows a good thing when he hears it. Since they are not yet represented well in the US, if you want a pair, feel free to contact Doug White at The Voice That Is! in Philly who is the US distributor for TIdal.
Equally impressive was the sound of the Goebel Divin Loudspeaker in Elliot's Goldman's room. This 3-way bass reflex design of 95dB efficiency was being driven to ear-splitting levels with only 20 watts showing in the CH amp display. Powerful, and articulate bass with a classic ribbon top end. Very good sound, and not just for an audio show! But at 200K+, it darn well should have sounded very good.
The next best thing I heard was a rather unassuming demo using YG Hailey 2.2 speakers, a relatively unknown German amp called Linnenberg, playing the famous Dafos LP on the Bergmann Galder table with the Odin arm (w Air Tight) in a small 10 x 12 room helmed by Alex from Alma music. The bass was just- holy mother of god- I can't believe what I just heard. Beyond deep yet unbelievably tight. Johnny Bergmann was in the room also and I swear he passed out as well since everyone knows a straight arm isn't supposed to do great bass. Heh, heh, heh. Ron, you're going to be one happy camper once you set up the Odin in your system!
Next up- some odds and ends. Perhaps the best "sound" I heard (as opposed to best system- there's a difference) was from a $1 LP Michael Fremer played on the humongous Von Schwikert Ultra 11/VAC system of Duke Ellington's "Mood indigo". IN MONO! Yup, you heard that right. That was the best midrange of the show. Great system, Great LP. And by the way, the Ultra 9's playing next door were no slouch either, but why listen to a half million-dollar rig when you can listen to a million-dollar rig?
Another surprise was in store for me at the VTL room. There was no traffic when I visited and a noticed that Bea's system (the newly upgraded VTL 6.5 phono stage was featured) using the Nordost QKore grounding system. Bea's always been very straight and brutally honest with me about what she thinks sounds good (and as everyone knows she has some of the best ears in the business) so I asked "hey, does this stuff really work?" She asked me if I wanted to take it out and put it back in to hear the difference. You already know the answer (so did she!). We played the great DGG recording of Beethoven's First piano Concerto recorded live with Giulini and the Vienna Phil featuring Arturo Benedetti Michelangelo. We took out the Nordost components and put them back in several times. The difference was impressive and rather easily heard. Better spatial presentation, darker background, deeper bass. I know that others have said the same, but this was the first time I was able to do a good A/B/A on a good system, so it was a new experience for me. I can't say for certain that it was a matter of all benefit and no liabilities since it may take some extended listening to make that call. But I'm certainly intrigued.
Another product that caught my attention was a shocker. It was the legacy "V" loudspeaker, which just knocked me out in one regard, which was the bass. Yes, it was a fully DSP'd system and therefore couldn't be audiophile worthy, right? Not true. But yet the overall bass performance was powerful, clean, articulate, extended and perhaps the most complete bass sound at the show. I can't say the same for the midrange and top end, but as far as bass, it was damn impressive and outperformed virtually every other mega system I could find. One might think that displays such as the Magico M6 with their dual monster subs would do a better job. But it was no contest. There is definitely something to be said for a speaker that does the full bass range without external subs since as many audiophiles know, dialing in external subs is an exercise in patience, frustration, and more patience that often has an unsatisfactory (or at least a compromised) outcome except for bragging rights for the ridiculous amount for money spent. What the Legacy V showed me was the promise of future of high end speakers that are starting to incorporate DSP for bass reproduction in what might be an otherwise non-DSP'd loudspeaker. (To be clear, the Legacy "V" is fully DSP'd. I'm just sayin'...)
Now for a change of pace, let's talk about the most disappointing room at the show. I went into the Synergistic Research Room where I stumbled into a demo where Ted Denney tried to convince a room full of people that four of his system enhancement devices were ones that you could not live without. He played mainly Kraftwerk and some classical and before he had the opportunity to ask people what they thought, proceeded to tell everybody how the additional gear enhancements unquestionably made the soundstage truly three dimensional and spectacular. "You can all hear that, right"? Uh, no Ted, not really. In fact, what I heard was just the opposite. When he added the Tranquility bass circuits, the Atmosphere device, the Power Cell 12 SE active ground and some other thing I didn't catch, the sound deteriorated noticeably. There was a degradation in the purity of each instrument such that say, a piano, no longer sounded like a piano (or at least as I know a piano to sound) In return you added either some psycho acoustic resonance, or phase shift or something I can't adequately describe, that made everything sound somewhat slightly more distorted and stretched, almost like an anamorphic projector. The word that came to mind was "cinemascope" but as it may pertain to sound field. It was certainly different but as Steve always says, when something sounds different, the key question to ask is whether it is different or better? In this case, I was decidedly not better, at least in my book. Why anyone one would go to considerable length to buy great amplification gear to reproduce sound through good speakers and then screw it up with post-processing crapola, is beyond me. Perhaps if you are susceptible to having Ted Denny yell in your ear and jump up and down as he tells you how great his gear is, you'll like what his stuff does. But make no mistake, this is nothing more than a parlor trick. If you want to reproduce music faithfully, I would stay the hell away. Far away.
Last edited: