Further thoughts...
Brand/Label/Format: *Analogue Productions 200g 45rpm LP* (5LP)
Genre:
Classical
Item Number: APLP6065-45 Unit Price: $149.99
200g 45rpm 5LP Box Set!
Mastered by Bernie Grundman From Original Analog Tape!
Plated & Pressed at Quality Record Pressings!
Dead-quiet 45 RPM 5LP set reduces distortion, improves cartridge tracking!
Mastered by Bernie Grundman from the original analog tape
Packaged in a custom-designed slipcase with integrated 22-page lavishly illustrated book
Please note: Side 10 of this release is a repeat of side 1
In the hearts of thousands, No. 1 on the Top RCA list. While the bulk of Ernest Ansermet's recordings were made with L'Orchestre de la Susise Romande, there were a few with the Paris Conservatoire Orchestra and the very occasional foray into recordings with London orchestras, one of these being with the Orchestra of the Royal Opera House, Covent Garden, in 1959.
Analogue Productions is proud and excited to be bringing back such a classic. Not just for the music, which is superb, but also for the detailed packaging, which in this case takes the form of a 22-page lavishly illustrated book that's integrated into the tip-on gatefold jacket for two of the LPs in this new 5LP 45 RPM box set edition.
A word about 45 RPM: The dead-quiet LPs, with the music spread over nine sides of vinyl (the 10th side repeats side 1), reduces distortion and high frequency loss as the wider-spaced grooves let your stereo cartridge track more accurately. But it's more than just the vinyl that makes this release so special.
If you're new to ballet, this pictorial history will introduce you to some of its most famous productions — old favorites such as The Nutcracker, Swan Lake and The Sleeping Beauty, for example — but also less familiar tales such as Carnaval, Les Sylphides and Coppélia. You'll also make the acquaintance of famous ballerinas of the Royal company, such as Margot Fonteyn, Nadia Nerina and Beryl Grey, as well as choreographers such as Jules Perrot and male dancers Alexis Rassine and Michael Somes.
Musically you can't get better than the 200-gram dead-silent platters pressed by Quality Record Pressings, makers of the world's finest-sounding LPs. Of course the best vinyl reflects the best mastering, and that's accomplished here by Bernie Grundman working from the original analog tape. Stoughton Printing expertly handled the intricate gatefold tip-on package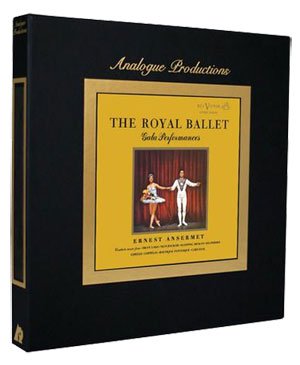 Last edited: