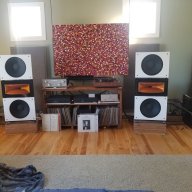 Feb 3, 2019
2,266
1,713
290
I was thinking upon the people so angered in the QSA thread over my dismissing a new plug end. I was mulling the vast array of items presented to audiophile that are suppose to bring glory to your system. Must haves!!!!!

I started wondering upon the variety of this or thats and how some becomes mainstream over time.

I was not involved when speaker wire was lamp cord and Monster came out with fat wire. I think everyone accepts a speaker wire as a component now. Same for a power cord. It seems many people accept they are a necessity. Accept for the Ching Cheng crowd.

At what point does anything handed to us stop being a tweak and become a foundation to good sound. Is a $1000 fuse a necessity. What about a $500 receptacles. People will tell you they are a component scale upgrade. How about little metal bowls or dots you stick on the wall. Or some harmonizer that is suppose to work with the earths resonant frequency. What about a ground box. Tweak or not???? Footers????? Power conditioner?

Is there anything that is handed to us that is not a necessity. Must we purchase everything in order to get the most from our systems. Where do you draw a line.

Maybe the more important question is, where do you start. What really matters. If you were going to build a stereo and you have a speaker, integrated amp and a CD or TT. Whats next. What do you have to have because its a foundation to good sound. A fuse????.