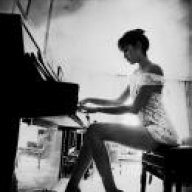 Feb 8, 2011
24,311
1,243
435
Years ago I started a thread on AV receivers and Surround Sound Processors (Pre/Pros).
I abandoned it because there wasn't enough interest from the WBF general clientele.
But I never truly abandoned anything...in reality.
* The specs from the manufacturer or various other sources don't always correspond to real life performance, rarely. The Onkyo 830 and Denon 3400 can both drive normal 4 Ohm speakers (main fronts). Plus with AV receivers the sub(s) is handling below 80Hz frequencies.
Strictly stereo music listening, sans sub, with your actual speakers, both would be adequate, the Onkyo having a bit more "crunching current power" (P.C. -> 850 W versus 600 W).
And it should handle your speakers better, that's all.
But, with Audyssey MultEQ XT32 room calibration, and using a sub or two, is a good option for some of us.
I was happy to see a review with some measurements of that Denon receiver...the X3400H.
I looked for one on the Onkyo RZ830 but I didn't search hard enough; I'm sure it would provide more power @ similar or lower overall distortion level.
I think both receivers here are on target...for below $500.
Last edited: