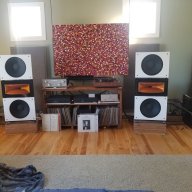 Feb 4, 2019
1,764
1,276
230
If you are picking up radio stations, I would focus on the pre-amp or phono stage/TT as possible ingress points for RF.

R
Grant
Shunyata Research
We are very confident its the phono stage. Change it out and the radio goes away. Move it around and the intensity rises and falls. The csbles don't seem to impact it, nor do the arms.
Radio is transmitted in the RF wavelengths. I'm not sure which one. I'm wondering if a ground box can help bleed the noise off.
I have looked into paints, foils, drapes etc to block RF. I don't know if its marketing or just the facts, but the companies wanting to sell you this stuff want every square inch of surface covered. Basically strip the room and lay $50k in copper foild over the entire room. Then ground all that. I know thr radio towers at this house are behind the rack. Its not my money, but I thought a copper lined curtain would be an intetesting try behind the rack. I don't know a paint would be a very effective treatment. Maybe, maybe not.