As we know, digital audio is a rapidly evolving technology; what was not considered a significant influence on music presentation is discovered to play an essential role after all. For example, in the area of network optimization, we see more and more audiophile switches on the market, each with its approach, technical breakthroughs, and benefits.
Although a relative unknown in the Western Hemisphere, the Waversa Systems W Router has been on the market for some time, and it remains the only audiophile-grade router. This unit is a "from the ground up" build, taking advantage of Waversa's in-house chip design and proprietary signal processing and protocols.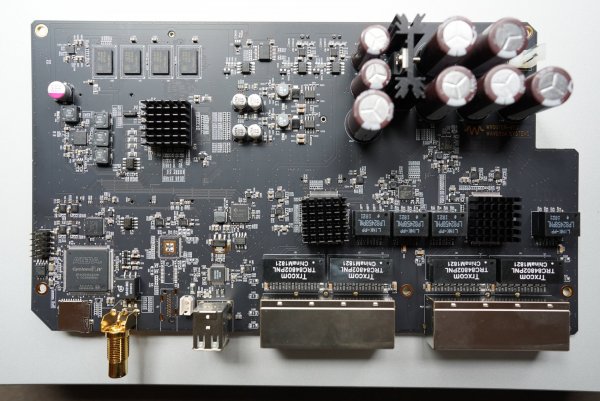 The W Router achieves what it is designed to accomplish: to present streaming data without a tradeoff, with a black acoustic background, more focus, less tension, improved clarity, dynamics, and detail, all with a noticeable reveal of the intricacies of decay.
The W Router is designed to handle the most demanding audio files and is capable of streaming different content to different locations simultaneously without compromise. This unit is not a high-speed router or switch. Any step in that direction proved detrimental to the overall sonic presentation.
The Waversa WRouter achieves network security by "packet filtering" and, for ease of use, is not configurable by the end-user. However, WiFi access can be custom labeled and password protected by the end-user.
The end-user can set up the W Router as a WiFi router, a switch, or a hotspot. Best overall results occur when we separate the W Router from non-audio bandwidth by connecting the W Router to your modem with an isolated ethernet line.
Key Features:
Audio Grade Router with Audio Transport: Roon Ready/DLNA/AirPlay/WNDR*
*
WNDR - Waversa Network Direct Rendering
, a proprietary non-buffering Ethernet protocol.
Fanless Operation
Optimized Linux for noiseless operation
ROON endpoint streamer with USB and Coaxial Outputs
SSD Storage for DLNA Media Server and Roon Network Share
DLNA/AirPlay Renderer forward to external WDAC/WStreamer, both compatible with WNDR protocol
WAP/X signal processing*
*
WAP / X
, proprietary processing providing optional vacuum tube sonics without tubes
4x battery-operated ethernet ports
3x standard LAN ethernet ports
1x WAN ethernet port
Additional 1x M2-SATA, 1x M-SATA Slot for SSD storage extension
AC Input: 90V ~ 260V adjustable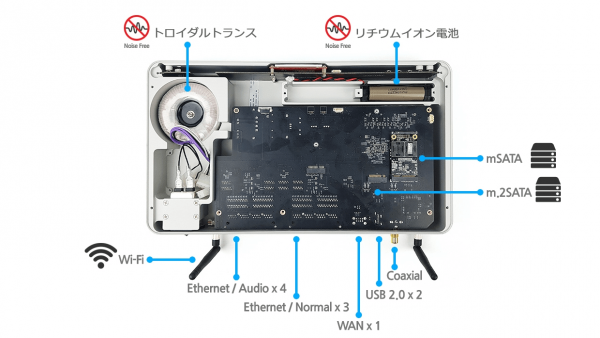 The W Router has four stages of isolation:
Lithium-ion battery and linear transformer power supplies
LAN ports with Isolation and Noise Filters
Separately Designed Processors (2 x Switching Hub Processors)
Whole Duralamine Chassis (Bulkhead, Floating Structure)
Clean power
In the left image, we can see electrical noise associated with a switch-mode power supply (SMPS). Waversa products use either an internal linear power supply (middle image) or battery power (right image). However, switch mode power supply noise generated by other network sources can still pollute the audio signal. This issue has been considered and addressed by the WRouter's incorporation of two isolated ethernet hubs. The standard LAN ports use linear power, and the audio LAN ports are battery-powered, providing complete power separation. Switching hub processors in each LAN area provide effective data distribution by separating distribution of music streaming data from distribution of data having nothing to do with music, such as behind the scenes network processing, firmware, LCD commands, etc.
Large power transformers supply main power
The W Router's essential operation, LCD front panel, battery charging, and standard LAN ports are supplied with electricity by the linear power supply. Linear power supplies are more stable than SMPS power supplies, so they reduce distortion by minimizing jitter and noise.
Battery-powered LAN audio ports
The four audio ports operate on a lithium-ion battery. By ensuring consistent, clean electrical current, Lithium-ion batteries allow for a more precise data stream. This level of performance is difficult to achieve, even with a linear power supply. Besides, the ultra-low impedance characteristics of lithium-ion batteries absorb and remove even the smallest noise signals transmitted through connected signal lines to achieve noise-free performance.
The W Router uses two batteries, one powering the audiophile LAN ports and the other held in reserve. It monitors the battery voltage automatically and seamlessly switches between batteries when the one that has been in use requires a recharge.
LAN ports with Isolation and Noise Filtering
The W Router has a bank of three standard LAN ports equipped with a noise filter to effectively remove noise-filled signals from external sources such as NAS, routers, and modems. Also, two transformers are strategically placed to eliminate high-frequency noise. One transformer sits between the two hardware network switch chips that communicate between the three 'dirty' standard LAN ports near the power supply and the four 'clean' battery-powered audio LAN ports connected to the audiophile components. The second is located after the switch chip for audio data. The four audio LAN ethernet ports have an additional filter, so the signal to the audiophile devices is filtered twice.
Separately Designed Processors (2 x Processor)
The W Router's audio LAN ports and standard LAN ports are entirely separated, using parallel internal switches. This separation of processors reduces latency relative to the use of a single processor, reducing the chance of jitter due to overloading. This design also prevents internally processed packets from being delivered to the audio ports, thus improving the throughput of audio data.
Normal Port Processor: WAN signal processing, LCD screen signal processing, input


Audio Port Processor: Processes only audio signal


Only when router mode is selected is CPU routering initiated
Whole-cut duralumin chassis
The W Router's solid, CNC cut duralumin chassis minimizes the effects of vibration. Also, the inside and outside are partitioned to a thickness of about 5 ~ 8mm, so that noise, whether generated externally or internally, does not interfere with the audio signal.
Floating structure design resistant to vibration
While the basic exterior armature is built to resist vibration, the structure itself is also designed to "float", providing even more effective vibration suppression. This airborne structure makes it almost impossible to transfer vibrations, so there is no sound distortion due to vibration.