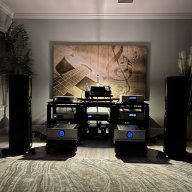 Jan 18, 2019
1,479
1,790
330
We began testing Albedo Cables today in our system. They are silver wires made with monocrystalline technology. Oz flew in today from NY and our dealer drove in from Alabama (Tony @ Ellington HIFI). And a local audiophile joined us as well.
The four of us began with the interconnects and changed one set of cables at a time. We listened to the same songs over and over again. With the change of each cable we could hear small differences for the better.
Initial reaction is very good, better base, more air around instruments, more detail, etc. Since I have to break these in it will be another week (24/7) before I know much more.
Here's a pic. Notice it is two cables per speaker - one pos and the other neg. Please excuse the mess, but everything will be back to order in about three weeks or so.
Our new Vitus gear (DAC, Line Stage, Transport) just arrived and will be installed next week. So we are excited.
Last edited: