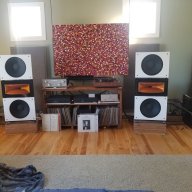 Feb 3, 2019
2,263
1,710
290
The thing is, I am that guy.

I may try a bunch more filters. But the fact that a loop forms with the dish itself sucks.
It shouldn't. Not if the panel is made up right and the dish equipment is grounded properly.
I do agree the component inputs to a TV can suck. I tried them with my TV to my surround system. In the end I ditched them and went with a HDMI connection that was much better. Maybe you can do like Wil and change the coax to ethernet. You could then try a Gigafoil if needed. I don't like the Gigafoil for audio, but it would do a fine job with a cinema system.