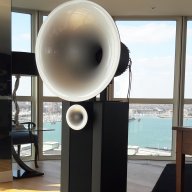 Feb 14, 2020
275
114
45
76
Hi guys,

I have not read all of the latest posts here, but feel compelled to support the statements by Chop. I have had Trios with four Sub 225s for 20 years. The subs are now for sale (cheap) for pickup only in Minnesota. (Send me a pm if interested).

See my post:

https://www.whatsbestforum.com/threads/set-amp-owners-thread.27070/page-76#post-680279

. . . . which I am going to repeat here because it is even more appropriate:

View attachment 74390 View attachment 74391 Oct 14, 2020

Hi guys,

Referring back to my posts

#600

-

#609

I have made some changes/IMPROVEMENTS.

Specifically, for discussion today, I have changed my (4) Avantgarde SUB 225 subwoofers. The change is truly phenomenal! Stick with me; this is coming back to my SET amps.

I have had many issues with the AG subs:

I had to recone most of the (8) drivers!

There was a huge thump when I turned them on or off (which, because of this, was seldom).

There was a background hum that additional grounding did not resolve.

They were SLOW relative to the horns.

Even when turned down so that they did not affect the midrange, they still muddied up the sound of the horns.

Despite all this, I lived with them for 20 years because I did not find anything to replace them that I thought would be better, or that I could afford, or that fit in my space, or that worked with my amps, etc.
Hi Don
I recognise the problem of the huge thump on powering up or down SUB225s. My original ones (in 2002 vintage Unos) also suffered this and another a problem that I was convinced was a physical fault with at least one driver - it sounded (occasionally) as if a driver coil was scratching itself inside its magnet. I rotated the drivers 180 degrees in the vain hope that gravity might be the cause and hopefully could also be the cure.
Then I contacted the recently appointed UK distributor who was most helpful in speaking with AG HQ and they came up with cures for both problems that cost me next to nothing. Both were very easily resolved by removing the amps, adding one small resistor to the PCB (to fix the thump) and adjust a small bias pot on the board to fix the scratching sound.
If you think your SUB225 problems may be the same and want to fix them, please send a PM with your email address and I'll forward AG's instructions and photos that made the job easy.
Peter