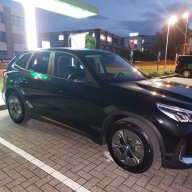 Jan 23, 2011
4,354
144
175
A serious question for all the Wilson owners and even more so at their 6 figure loudspeakers.

Does it "bother " you that the company still uses paper cone drivers ? Objectively they aren't pistons drivers and light years behind their competitors. Who are even less expensive retail price.


You look at domestic and Magico and YG and they are ahead in objective technology.

Sorry no matter what marketing word Wilson uses to describe resin. It's still behind aluminum and now carbon fiber.

But the hobby is subjective so I respect your opinions. But frankly , and I mean this respectfully that I've never heard or read any magico or yg owner selling their speakers for modern Wilsons.
Although im not a Wilson owner i have a lot of respect for their designs / fit n finish etc.
Papercones/ composites produce arguably the most natural midrange.
No need to go fancy, people dont listen to pistons lol
Paper cones for the bass/ large membrane is another story afaik ( to flexy).
Thats an area my designs will exceed current WA speakers most likely
The previous WA speakers had the fiberglass composite cones (focal audiom)
If im not mistaken.
They were very stiff with ( good bass) maxx 2 , I havent heard the new Wilsons yet to be honest.
I hope to hear this one at the munich show
Last edited: