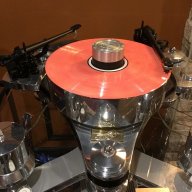 Sep 24, 2020
192
69
30
58
I am a big believer on the impact of power cables and power connectors for our audio components. Proper connections and the correct topology for power cords will have a greater impact than any other cable that is easily discernable for even unexperienced listeners. Whether that impact is suitable is up to you.

There is such a diversity out there that it is impossible to try them all. I had used Shunyata for a number of years with the Io- their naming conventions are so confusing to me- I don't really know what I was using. Those Shunyata's have been relegated to other duties around the system or packed away.

I have since tried many others and based on performance in my system settled on the Audioquest Hurricanes . I find them capable in really delineating detail in the lower most registers in very natural coherent way that really works with my electrostatic line sources . I was never really a fan of audioquest- outside of their tremendous depth in each product line - but I think their engineer hit a home run this series of power cables even though they are likely made in China.

They are extremely inflexible and where you might of gotten away with a 1 metre in the past you may need a 1.5 metre in order to delvelop a loop to arrange how they connect- especially if you are up against a wall.

Worth considering, they are widely available and you may be able to get a home audition at some vendors.
The Audioquest Hurricanes certainly rank up their with the Shunyata Alpha NR2s. Have you made any direct comparisons between the two using the IO or other component? What made you decide to use Audioquest over others? Thank you.