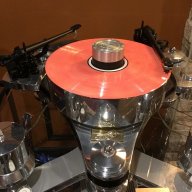 Sep 24, 2020
140
46
30
57
Hi OGH,
Good luck with your experiments. Ironically, I posted that my system was quiet with the stock JJ tubes, but today, I also have the Io sitting on the floor getting ready to to a tube swap in V1/2. Perhaps, KCIN jinxed us when he said that the JJs are prone to noise after some use.
For what its worth, I did some extensive tube rolling in 2008 which concluded that a quad of matched low noise Sovtek 12AX7 LPS in V1/V2 have been key to low noise enjoyment. No matter what other tubes were used in the other V locations, which seemed to change the characteristics and nature of sound, the V1/V2 responded very well with these Sovteks In terms of lower noise. I again endorse that statement as of 6 months ago when i placed a quad of 12AX7s in the same positions and the Io was quiet. I only have Tesla E83CCS, Mullard (new versions)12AX7, and some Gold Lion ECC83 to experiment with as I investigate the JJ tubes. I had my system on for about 12 hours yesterday so don't know if heat was causing the issue or not, but going to do the test anyway.
I am contacting a dealer to procure some vintage tubes which were recommended.
Here is my 2008 Aesthetix Io tube rolling report:
https://forum.audiogon.com/discussions/aesthetix-io-tube-rolling-experiment-at-area-51
Good Luck,
Ciao,
Audioquest4life