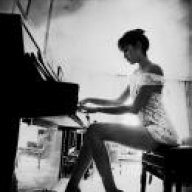 Feb 8, 2011
20,893
376
83
70 minutes 60 seconds 2 channels 15 bits 2 as pit ber bit ...
Ok, this is interesting; when I first asked the question it was out of the blue.
So your first number is the time length...70 minutes.
Did you know that some CDs have close to 90 minutes! They were using 90-minute CD-Rs (Germany). I have few myself of just over 80 minutes...commercial music CDs (close to 82 minutes). I recorded tons on 80-minute Maxell CD-R Pro Premium blanks, but they always ended up @ 79:58 or 79:59 the maximum ones.
Now, be ready to be blown away:
Facts about CDs
The compact disc is a miracle of modern technology. Here are some facts:
They are made principally of injection-moulded polycarbonate.
The diameter is 120mm.
They are 1.2mm thick.
They contain up to 680 megabytes of data. This is the equivalent of 250,000 double-sided leaves (500,000 pages) of A4 text (which would be 83 feet high and need 8 trees to make).
The music on a CD is imprinted in the form of pits of varying length on a spiral track 3.52 miles (5.66 kilometres) long.
There are approximately 16,000,000,000 pits 0.11 micro-metres deep.
The largest pit dimension is 3.054 microns; the smallest is 0.833 microns.
The width of the pits is half a micron -- which is the distance a human hair grows in two minutes and a fingernail in seven minutes. It is 700 times smaller than a pinprick.
The space between tracks is 1.6 micro-metres.
Read by a red-light laser beam, the CD plays from the centre to the edge, rotating at a speed varying from 400 times a minute at the beginning to 250 times a minute at the end. This is equivalent to flying round the earth one inch above the surface, up to 400 times a minute, counting every blade of grass on the way.
Your CD is read by the laser beam and makes over 44,000 arithmetical calculations every second in at least two dimensions. It is adding up columns of numbers ('digits'). But many of the numbers are missing because there are thousands of errors on the average CD. Therefore the numbers are added up laterally as well as vertically, enabling the CD-player to fill in the missing numbers by cross-checking them. This is all quite normal and is called 'error correction'.
_____
"In September 1978, Sonyy demonstrated an optical digital audio disc with a 150-minute playing time, 44,056 Hz sampling rate, 16-bit linear resolution, and cross-interleaved error correction code—specifications similar to those later settled upon for the standard compact disc format in 1980.
A motor within the CD player spins the disc to a scanning velocity of 1.2–1.4 m/s (constant linear velocity) – equivalent to approximately 500 RPM at the inside of the disc, and approximately 200 RPM at the outside edge. (A disc played from beginning to end slows its rotation rate during playback.)"[/B]
Last edited: